Some Well-known Balmullo Farm Ponies:



| | |
| --- | --- |
| Balmullo's Veronica, aka Lambchop, beloved children's riding pony at Gately Farm | |

Balmullo's Miss Lucy, ACPS's Connemara of the Year, 2005: Congratulations to Balmullo's Miss Lucy, winner of the 2005 A.C.P.S. Connemara of the Year! This award is presented to a pony that has done something special to bring positive attention to the breed. Lucy was the all-breed champion of the Mountain and Mooreland class at Devon in 2004. Lucy is by C.R. Roaringwater Bay and out of Balmullo's Miss Emma by Aladdin and is owned by Cindy O'Flaherty of Middleburg, VA.

| | |
| --- | --- |
| | Balmullo's Gallagher: a.k.a. "Emmitt" (Concord River Roaringwater Bay x Balmullo's Miss Emma) 2001 14.1 hand Dun Connemara Stallion, Inspected and Approved by the ACPS Sept. 2004; owned by Michelle Haas, Sunny Slope Farm (MO) |
| Congratulations to Emmitt on winning the Baby Green Hunter Championship in March 2006 at The Irish Fox Show! | |

Balmullo's Amazing Grace, was one of the first ponies bred at Balmullo Farm. Out of Rosehill's Glenconi (aka Speckles) by the racingThoroughbred from England, Sy-A , Mazie was trained and ridden in Canadaby Kelly Kalbol, then sold to the Harpers of Altanta, Georgia. Ridden by the diminutive Leigh Harper in the large pony hunter division on the A-rated circuit Mazie has won innumerable championships and awards. She competed with Leigh in the Medal finals and in 1996 was the ACPS Half-bred of the Year. In 1997, Mazie was awarded the Clifden trophy by the AHSA for the Connemara or Connemara cross earning the most points in recognized competition in the United States. She was passed on to a 6 year old young man two years ago and the two have formed a strong and loving relationship.

Balmullo Bay, aka Fred, was the first offspring of Roary and Ashley; he earned many ribbons in dressage, through fourth level while in North Carolina. After many years, he moved back to Naples, FL, where he is still competing. His full brother, Balmullo's Dundee, made his debut in combined training in 1997.

Balmullo's Same As Gold, by Hideaway's Erin Smithereen out of an imported mare, has done stallion duty in Ohio for many years, in an area where Connemaras are not plentiful. "Sheamus" has produced many lovely purebreds and halfbreds.

Balmullo's Water Lily, a full sibling of Fred, lived at Balmullo Farm until she was six, producing one foal and exhibiting her considerable talents in dressage as a member of the Connemara Quadrille. She was then sold to an enthusiastic family from Texas. At the 1996 Region 4 Connemara Pony Show in Columbus, Ga., Lily was the Champion broodmare and the Reserve Champion purebred Connemara.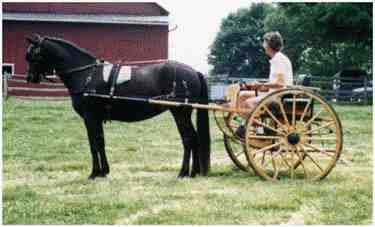 Balmullo's Celeste with Sam Davis

Balmullo's Little Star, by Roary out of Tullymor's Twinkle Too has turned out to be an amazing broodmare. After producing two prize winning fillies for Balmullo Farm, Balmullo's Moon Britches (by Mystic Leprechaun) and Balmullo's Celeste (by Balius Brannigan), she was sold to a farm in Virginia where she produced some excellent foals by Aladdin's Admiral Byrd and Perseus. She is now beginning a serious driving career in South Carolina. Moon Britches was, as a three year old, champion pony hunter at the Florida State 4-H show; as a yearling, Celeste was grand champion at the "I Love Ponies" Show in Florida, and also earned several blues or reds at the Region 3 Connemara Pony show in Virginia.

Balmullo's Savannah (pictured below with Gretchen Scott) is by Roary out of the Thoroughbred mare, Syamiko. "Savvy" is the first of this wonderful cross to compete. She competed and won at the Preliminary level in combined training. She has also won many ribbons in dressage.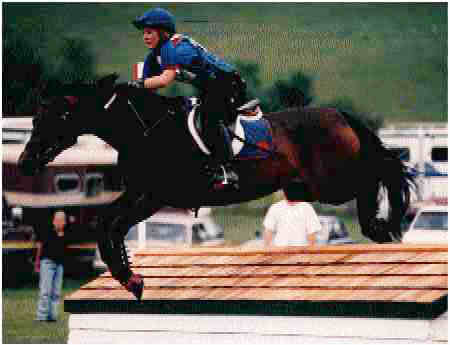 Her full sister, Balmullo's Anemone (see photo at top of page), was third in her first horse trial. "Annie" has also won a number of classes at hunter paces, and was Grand Champion half-bred at the Region 4 Connemara Pony Show in 1996.
Another full sibling, Balmullo's Charleston, is a dressage star in Ohio and Balmullo's Saskia is a best friend and future star in New Jersey.


Balmullo's Beacon (pictured right), a stallion son of Aladdin out of Tullymor's April Fool, has now produced several crops of foals for Vanessa Morgan, all "athletic, personable and typey." Beacon, called Bubba from birth, was deemed by the society's inspectors to be an ideal Connemara stallion.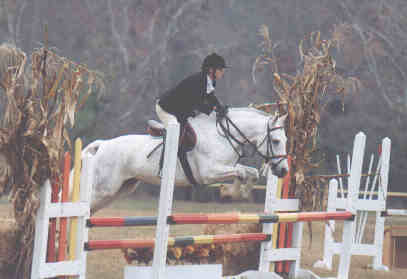 | | |
| --- | --- |
| | His half-sister, Balmullo's Miss Emma (pictured left), out of Oakhills Miss Independence, was pronounced an ideal broodmare by the inspectors. One of Roary x Emma fillies is the sweet and beautiful Balmullo's Miss Lucy. Living up to the inspector's judgement of Emma's broodmare potential, Lucy, loving and personable from her first breath, exemplifies everything Balmullo Farm stands for: beautiful, loving ponies who gracefully float across lush green pastures. |



Return to Balmullo Farm HomePage