BALMULLO FARM
6494 Charles City Road, Richmond, VA 23231 Phone: 804-507-0269 e-mail: balmullofarm@gmail.com

Breeding Connemaras since 1982!
BALMULLO FARM
DONNA DUCKWORTH, OWNER AND MANAGER

Breeding fine Connemara and Connemara-TB crosses since 1982.
We specialize in quality horses and ponies with good conformation, movement, and type.

WEB SITE CONTENTS

BELOW - Kids and Ponies, News, History and Location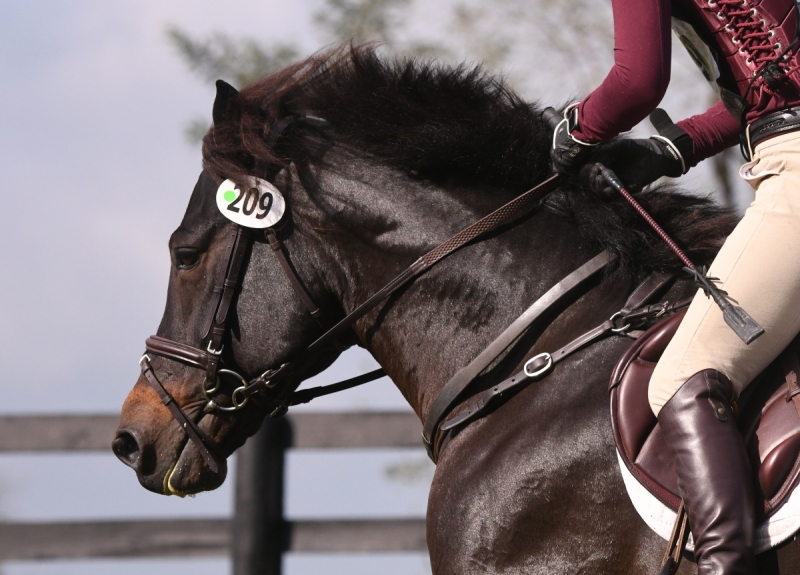 Balmullo Farm is located on the east side of Richmond, Va., where we have 16 acres divided into four pastures and a system of woodsy jumping trails. We have been here for almost eight years, having previously raised Connemaras in Florida since 1982. There we stood the stallion Concord River Roaringwater Bay (Whitewood Galway Bay X Lynnfields Proud Hope), a greatly beloved sire with more than 75 offspring, recently deceased at the age of 32. Now we stand the exceptional eventing stallion, Foothills Field Marshall ( *Gun Smoke X Foothills Maybee) who is available via cooled shipped semen.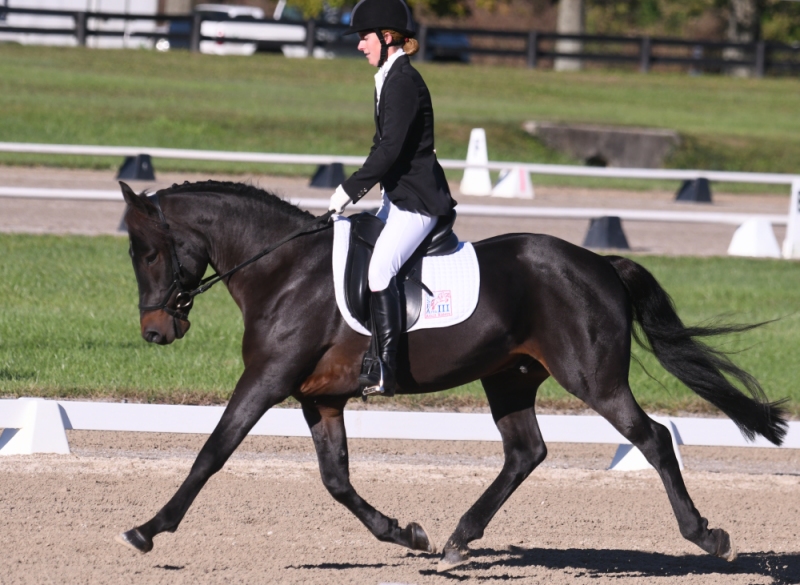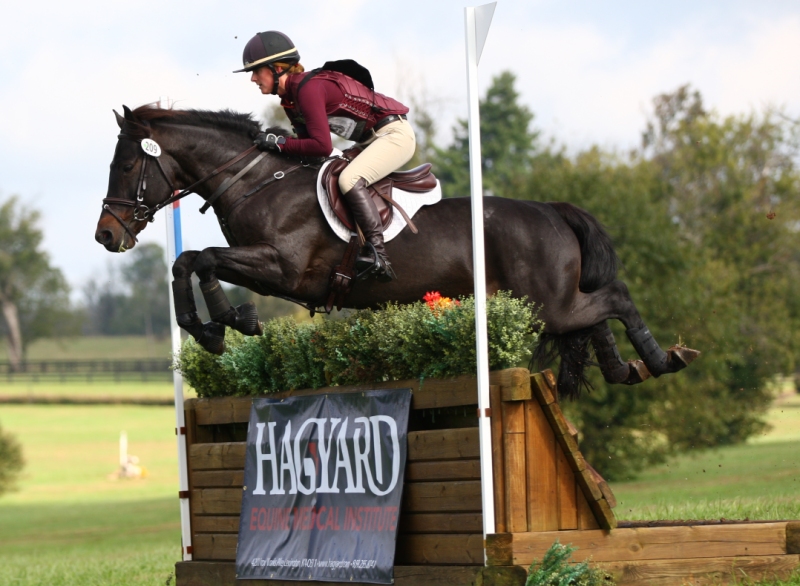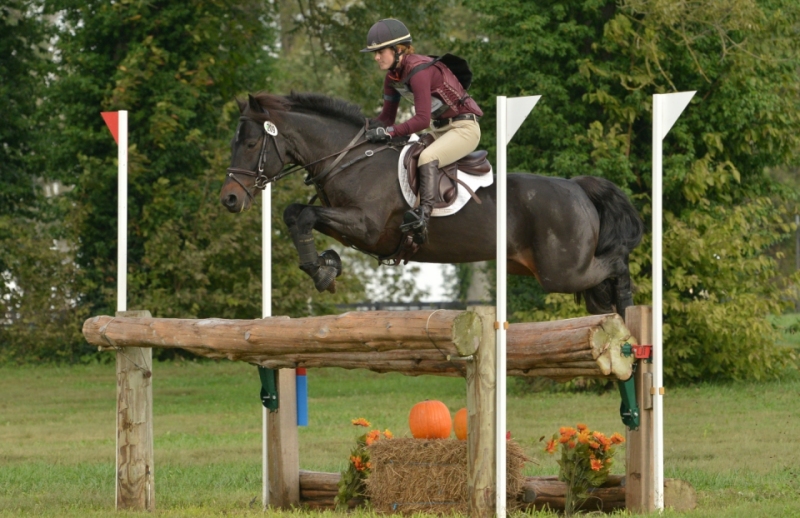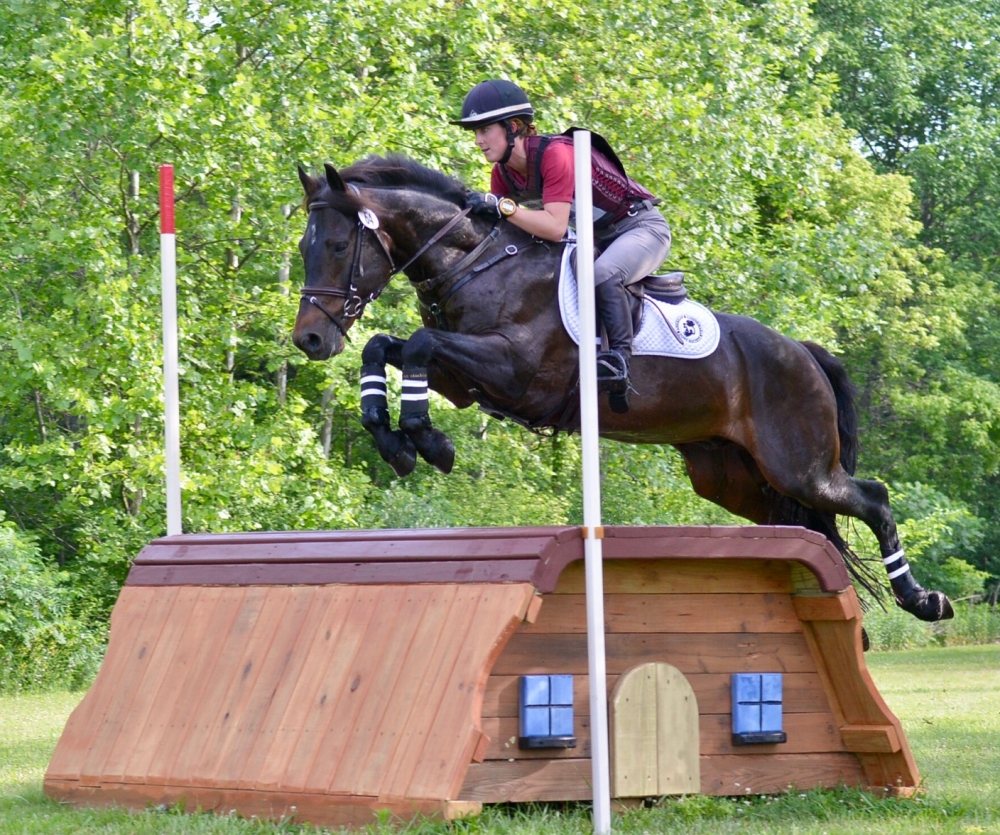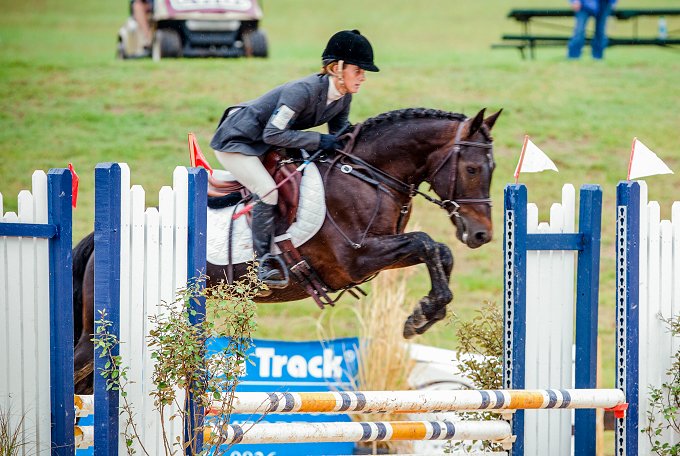 Foothills Field Marshall
(a.k.a. "Bruiser") Watch his run at Hagyard 2017 !



He is super talented, both in dressage and jumping, with cross country his absolute favorite. He was originally trained by Luke McLaughlin, now assistant trainer at Lyndon Rife Dressage in Dallas, who showed him to great success. At his first Connemara show at Pine Top Farm in Georgia he won the high-point dressage award with a score in the 70's. At the 2012 Region IV show in Florida, he was the Grand Champion In Hand as well as dressage star. At his next two shows, USDF recognized Dressage shows, he won every class he entered and qualified for the Regional Championships in Georgia where he was 12th out of 27.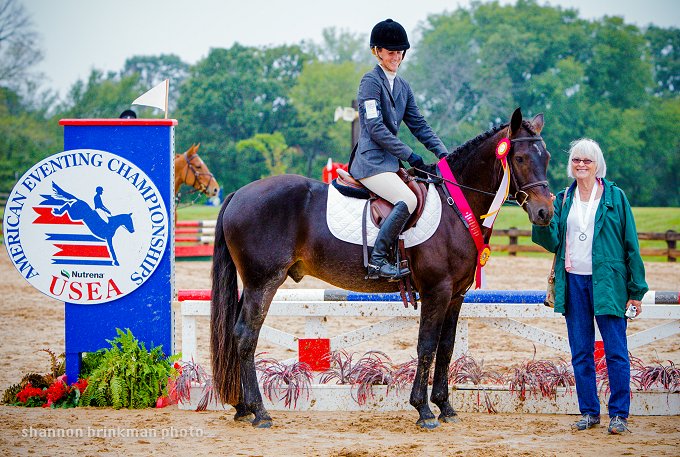 Foothills Field Marshall

a.k.a. Bruiser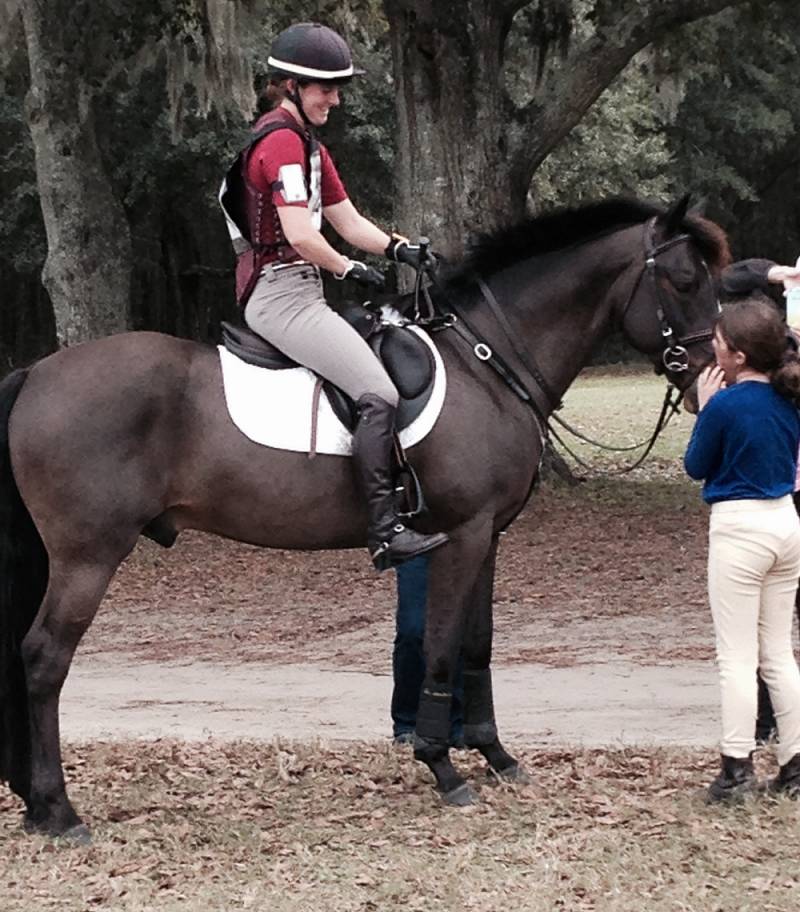 When Luke left Florida for Texas, his training was taken over by Elliott Blackman Timmons, an event rider, who also rode and trained another Connemara stallion by *Gunsmoke, WH Top Gun, as well as her own Irish Sport Horses. At Bruiser's first horse trial, he beat all others in his division by some 20 points and had clean stadium and cross country rounds. He has qualified five times for the American Eventing Championships, although he did not attend in 2015 or 2017. In 2013 he was the reserve champion in the Beginner Novice division and in 2014 he was 10th in the Novice division. He is now competing at the Preliminary level under Elliott's excellent tutelage. He recently completed his first Three-Day, The 2017 Hagyard Midsouth T3D, in Lexington, KY, where he finished in the ribbons.
We are very excited about his offspring. His semen ships very well and he has gotten all mares in foal with the first shipment. He is negative for the HWSD gene.
BRUISER FOALS
Mossie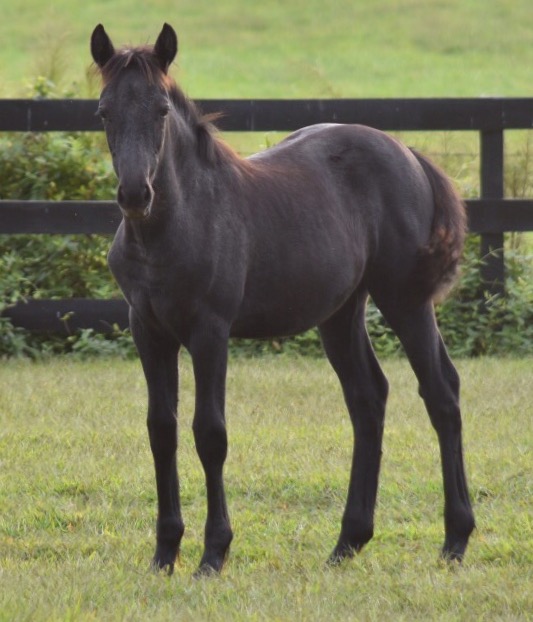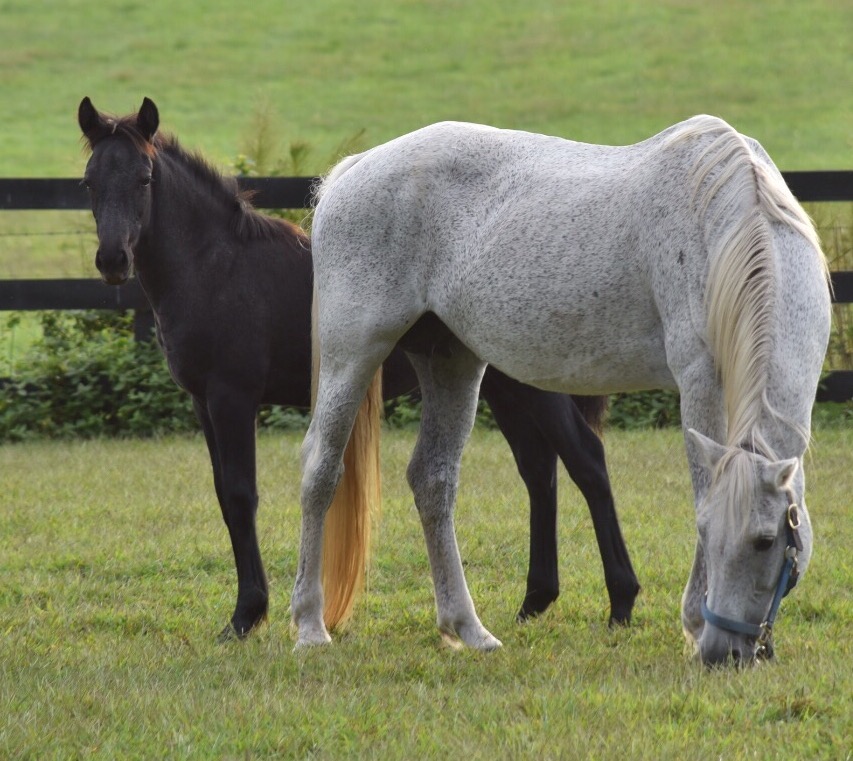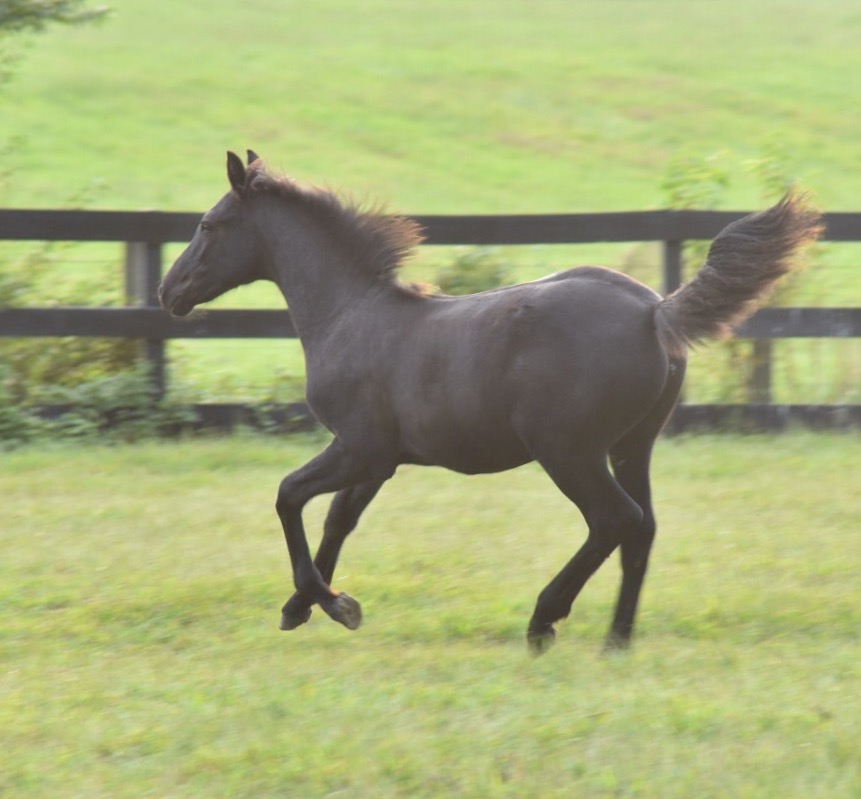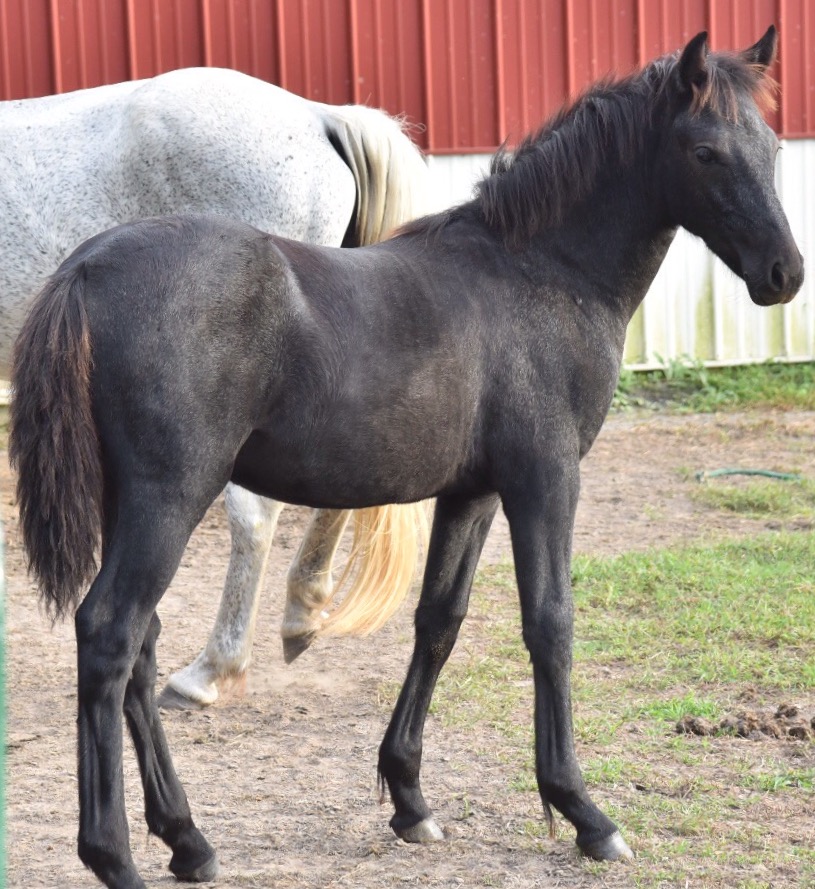 Elijah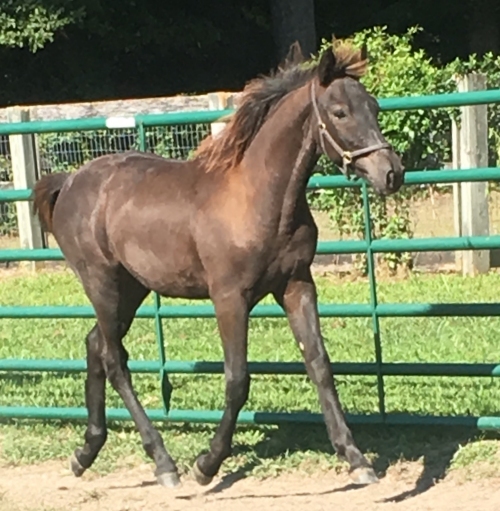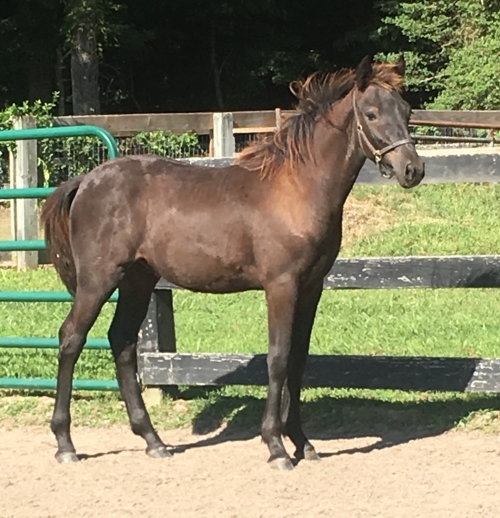 Brouhaha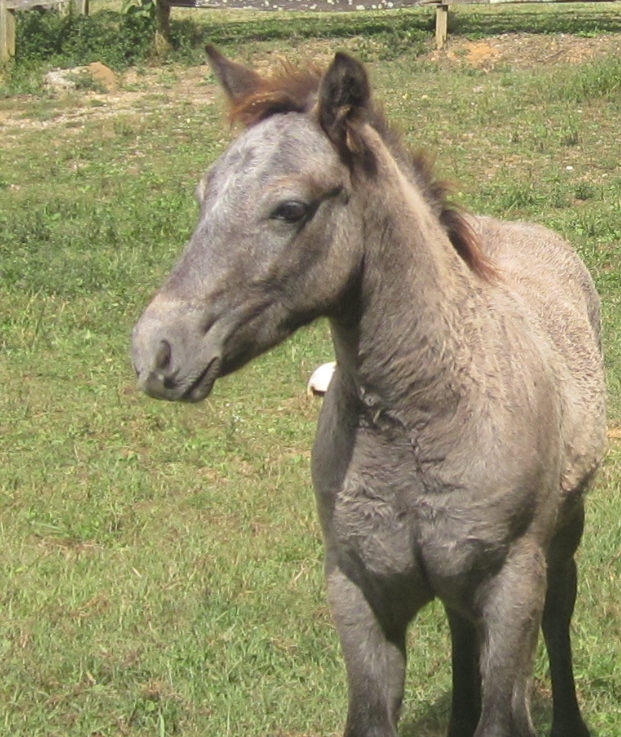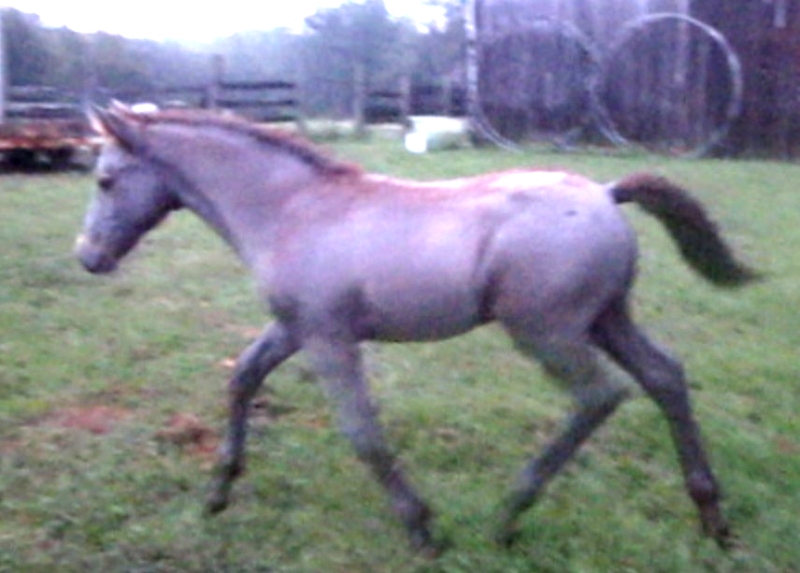 Jack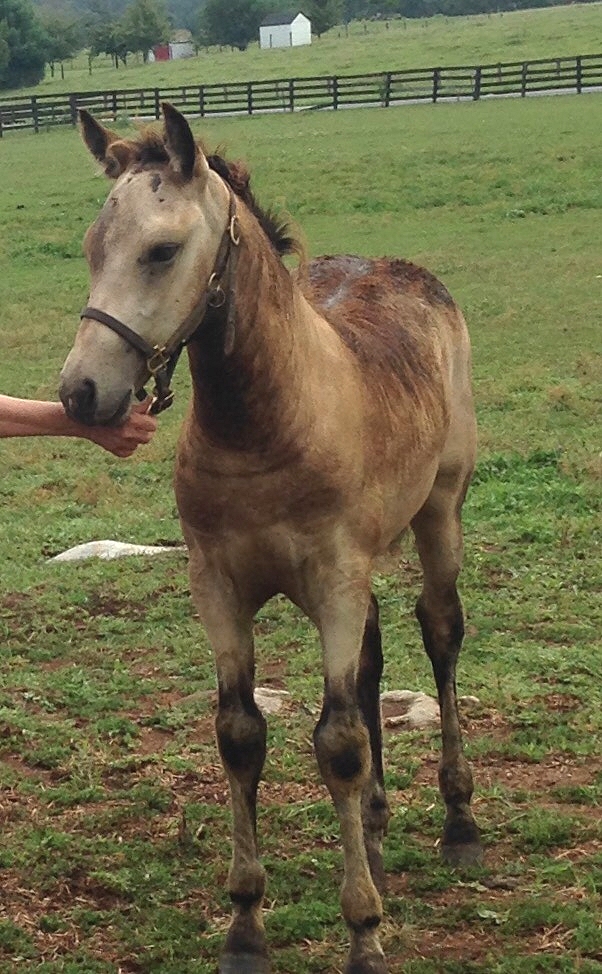 Hillside Emily and foal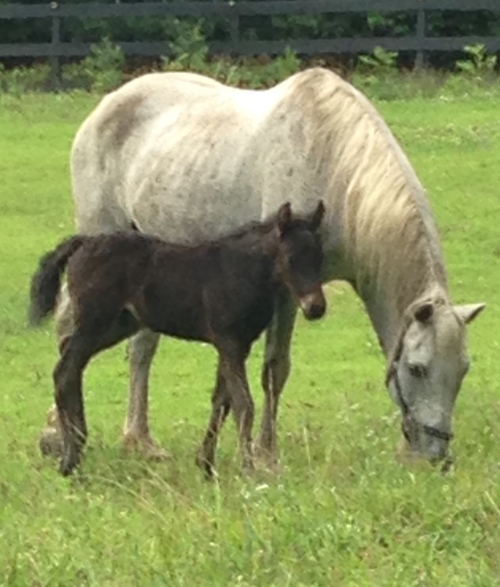 Mossie and Danny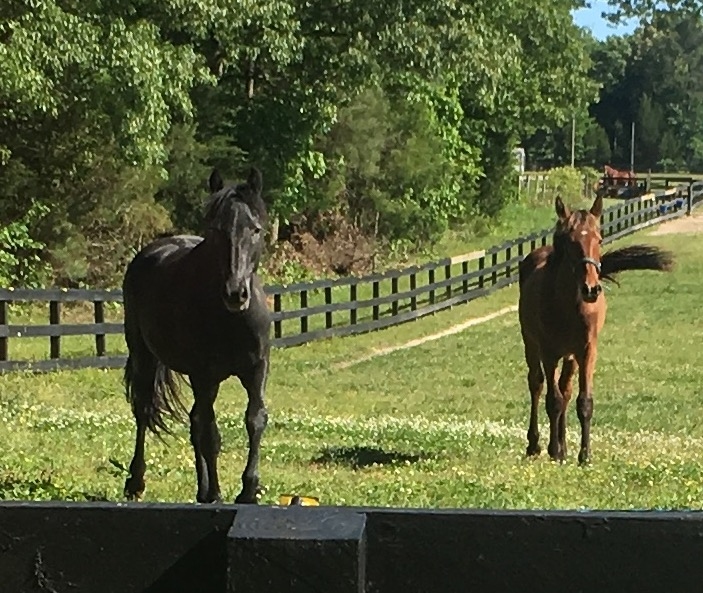 LIFE AT BALMULLO FARM
We give lessons year round, mostly to 6-12 year olds, and in the summer have two weeks of Camp Horseshoe, where 10-20 "future Olympians" spend their days riding, swimming and doing horsey crafts. Another fun activity is a visit to the VMFA to do a 'treasure hunt' of sorts, where they look for answers to questions about the museum's extensive collection of horse paintings. (When did George Stubbs live and what did he mostly paint?) During the show season we go to local Hunter shows one or two times a month where the girls show mostly in Pre Short Stirrup and Short Stirrup and often are division champions.

Summer Fraughnaugh and Balmullo's Liffey Lad: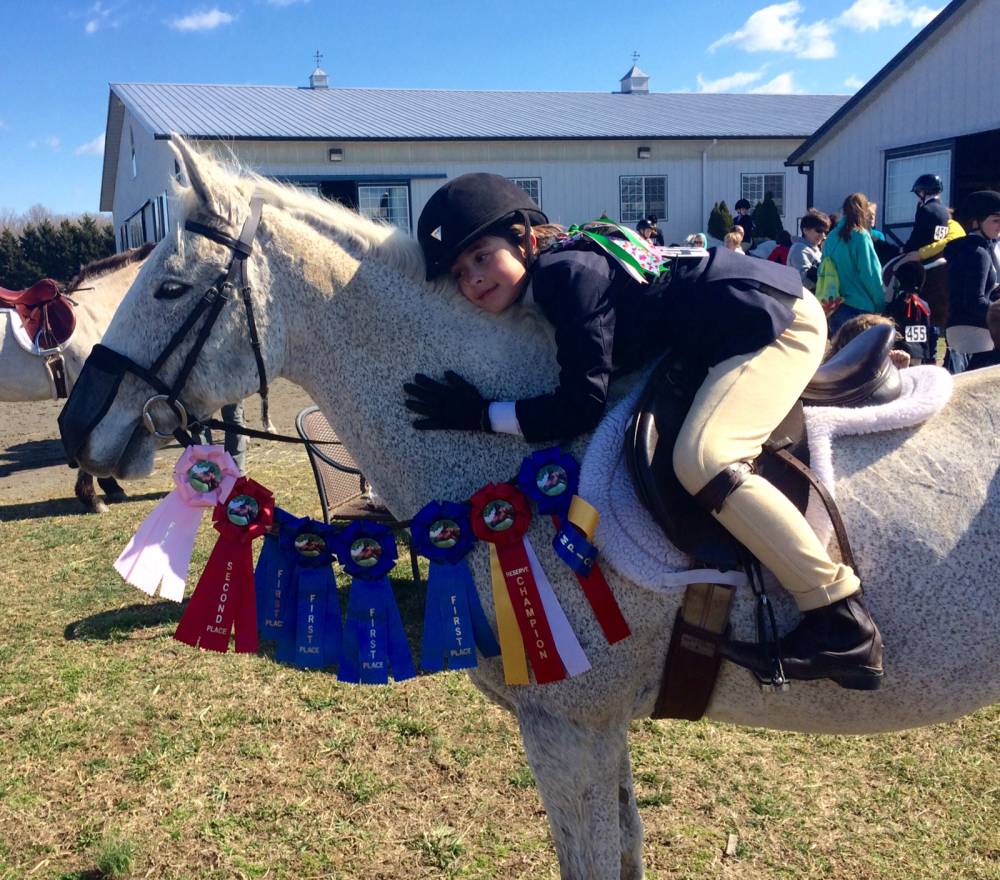 Lulu Malinoski and Balmullo's Uproar: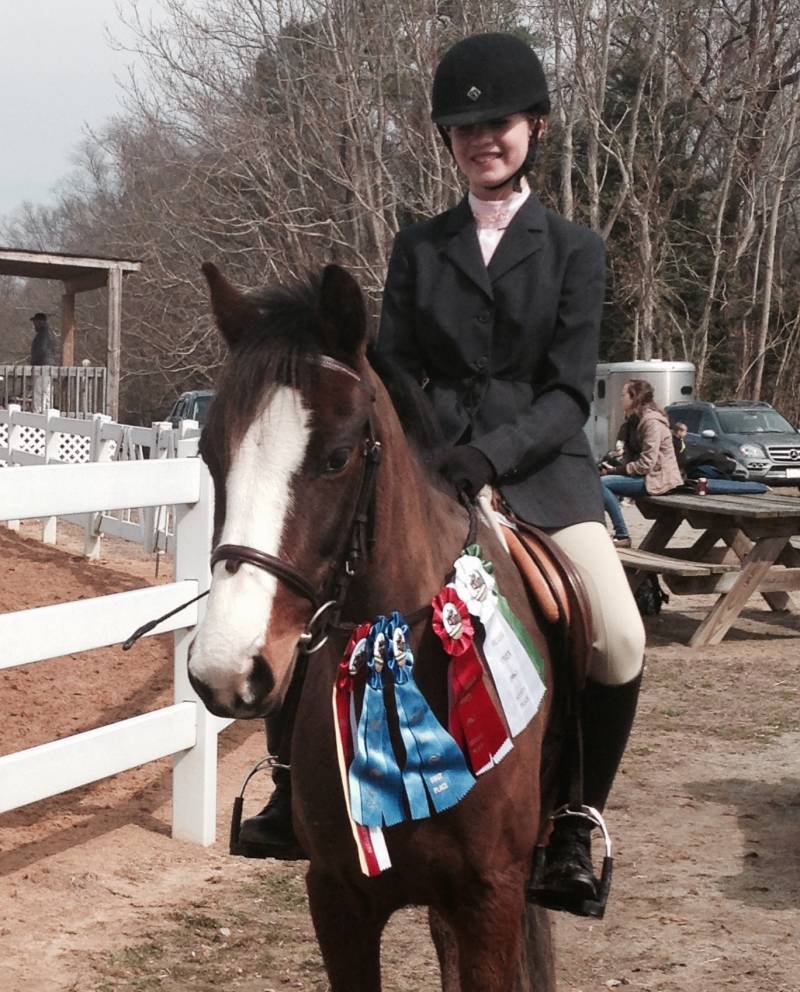 We had our 4th year of Camp Horseshoe this year where we had a total of some 20 budding young riders learning to ride and care for horses.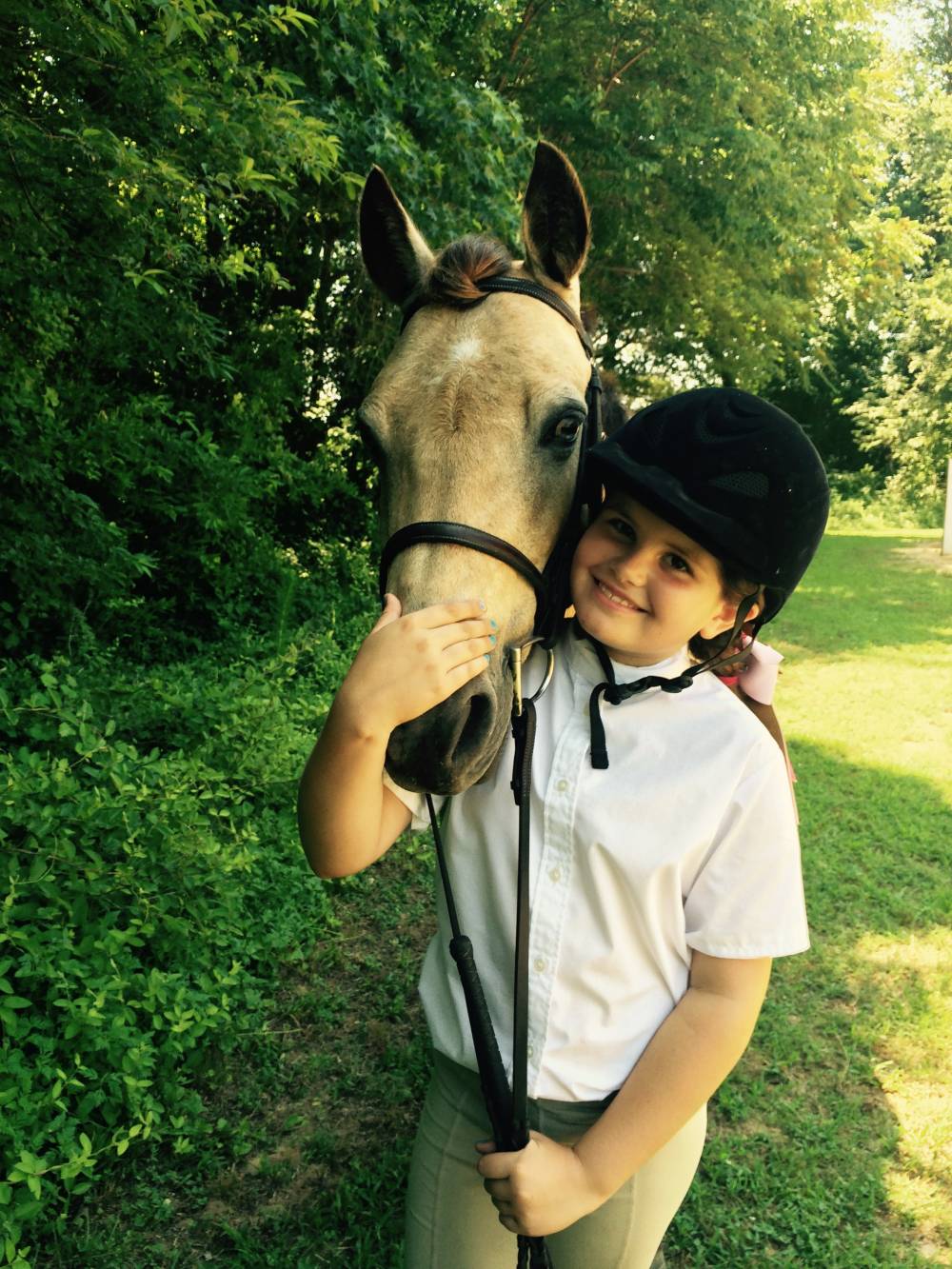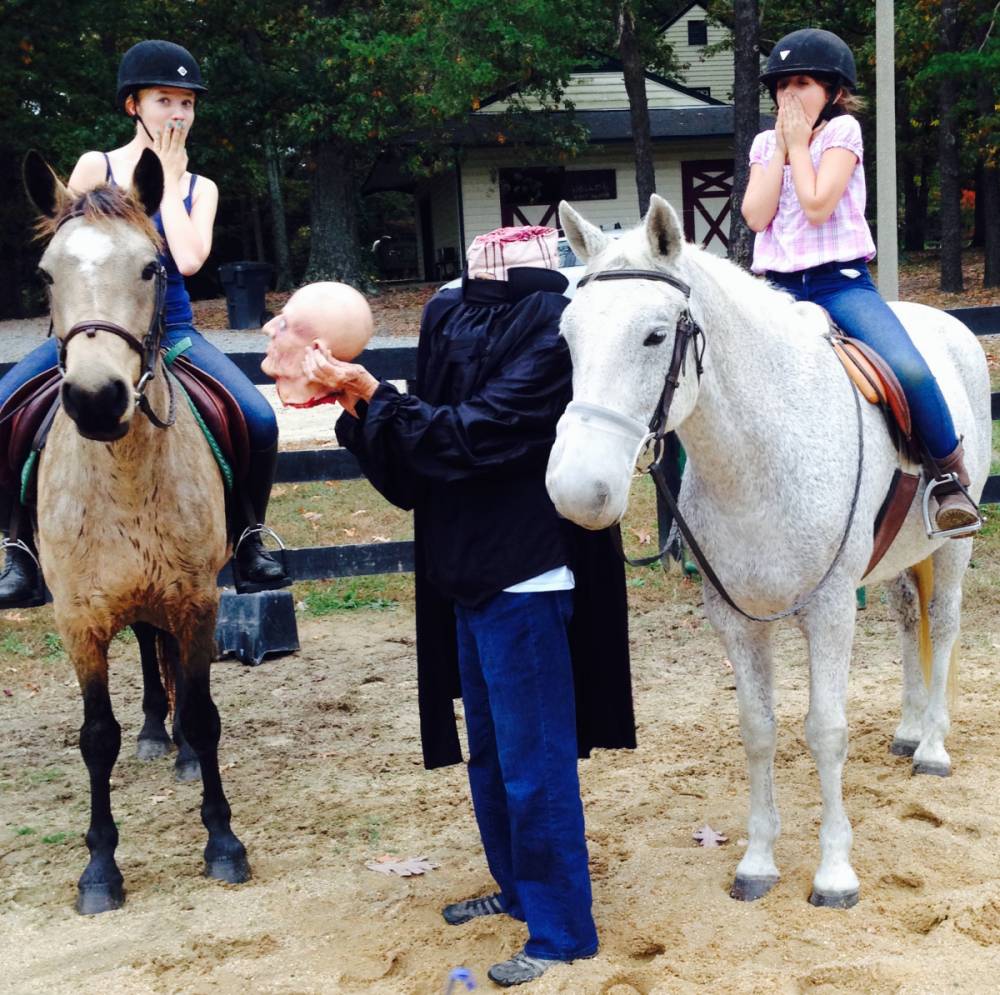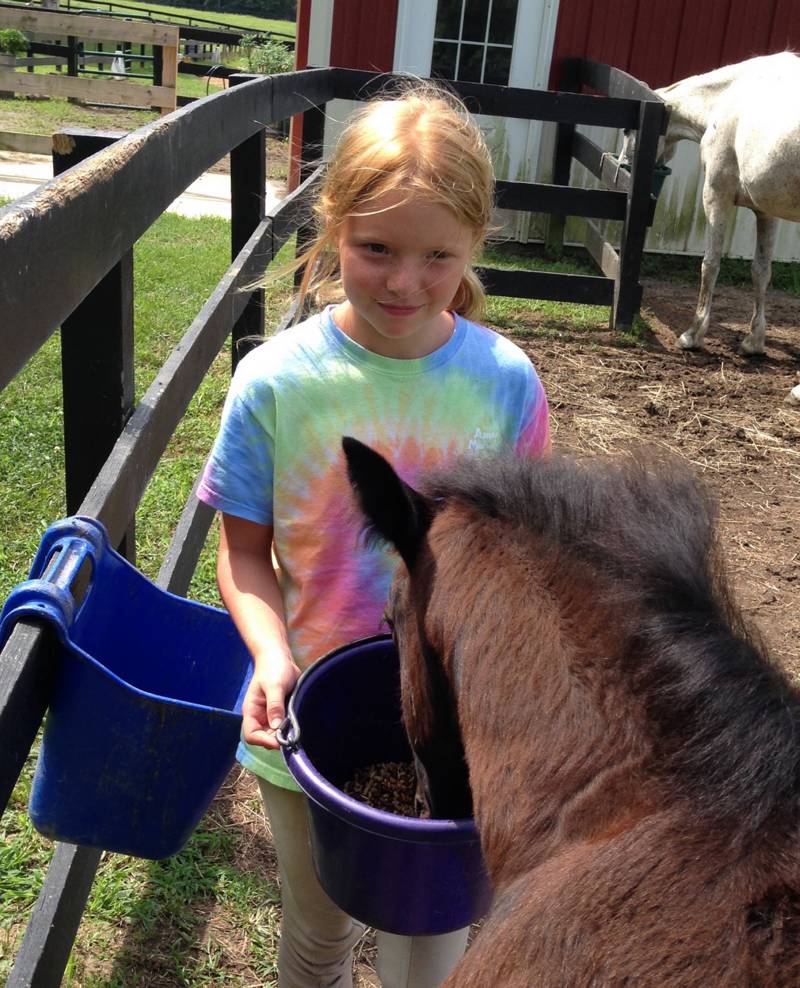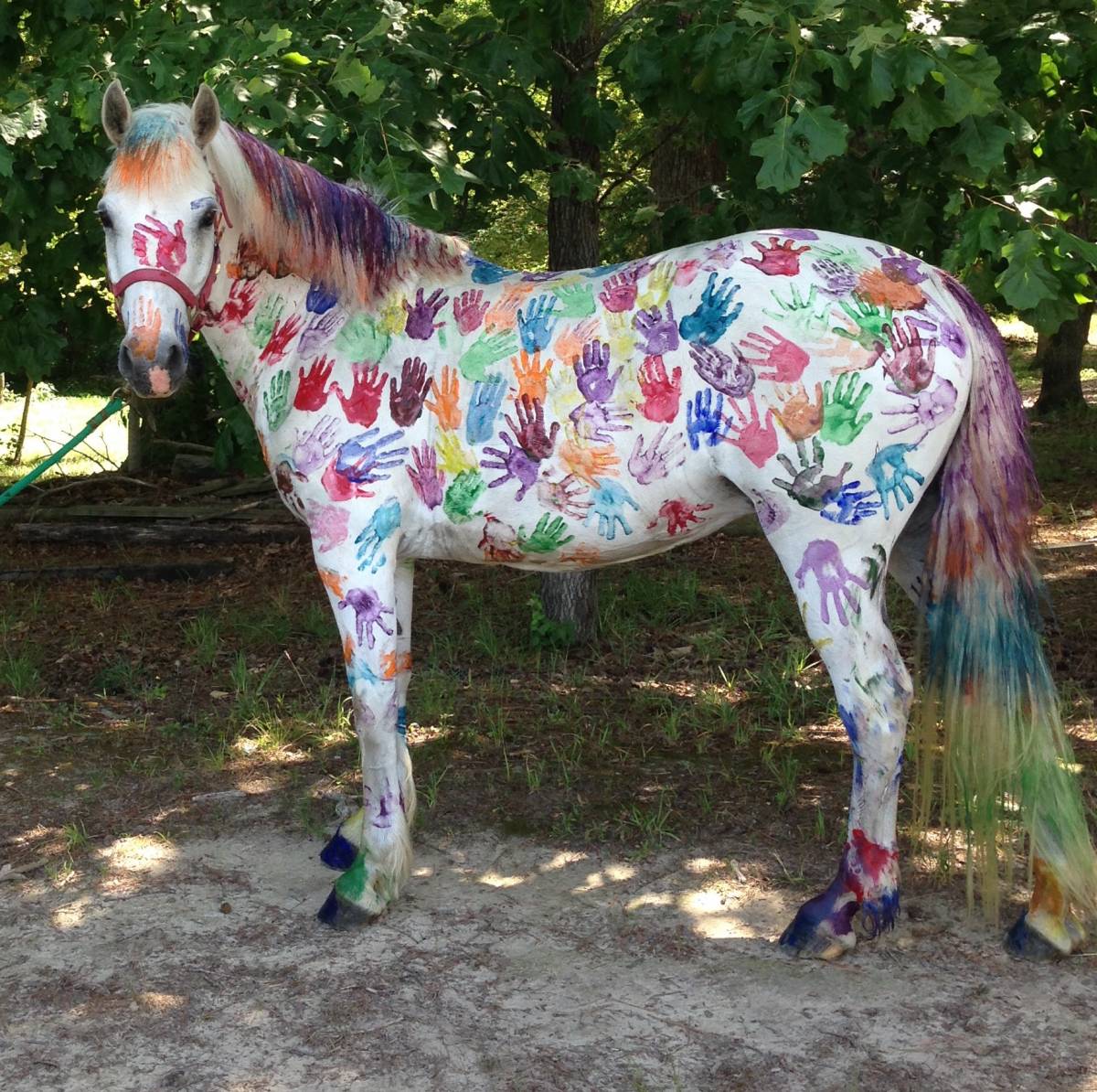 And we always attend our annual Connemara show in Lexington, VA., with four to six of our riders doing a musical quadrille, usually to great acclaim. We also love the costume class. One year we went as an Art Museum, the Balmullo Museum of Fine Arts, which could only have happened because all the parents were artists of one sort or another. Each of the girls was dressed as an artist with each pony painted as one of the artists' works. We had Picasso, Mondrian, Frieda Khalo, Andy Warhol, and Georgia O'Keefe. It was a huge success!
BALMULLO QUADRILLE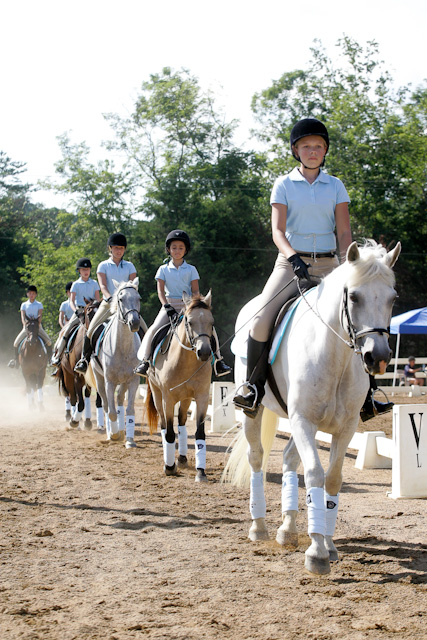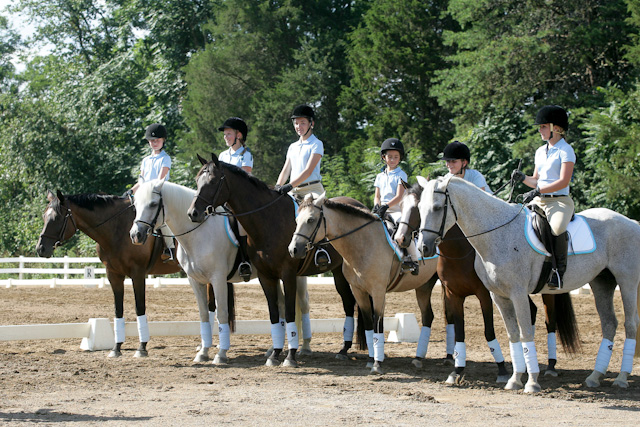 COSTUME CLASS: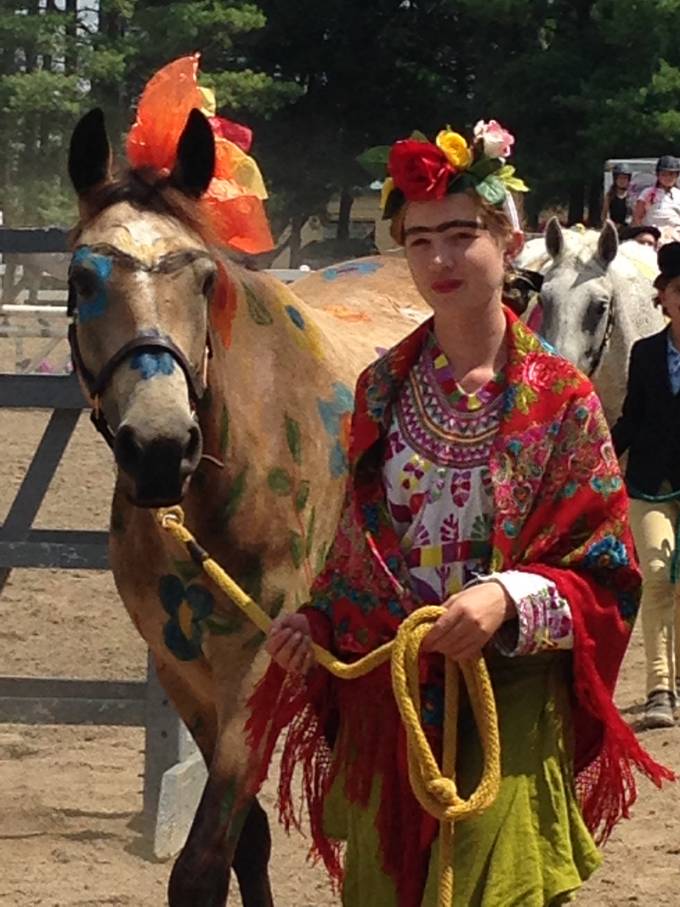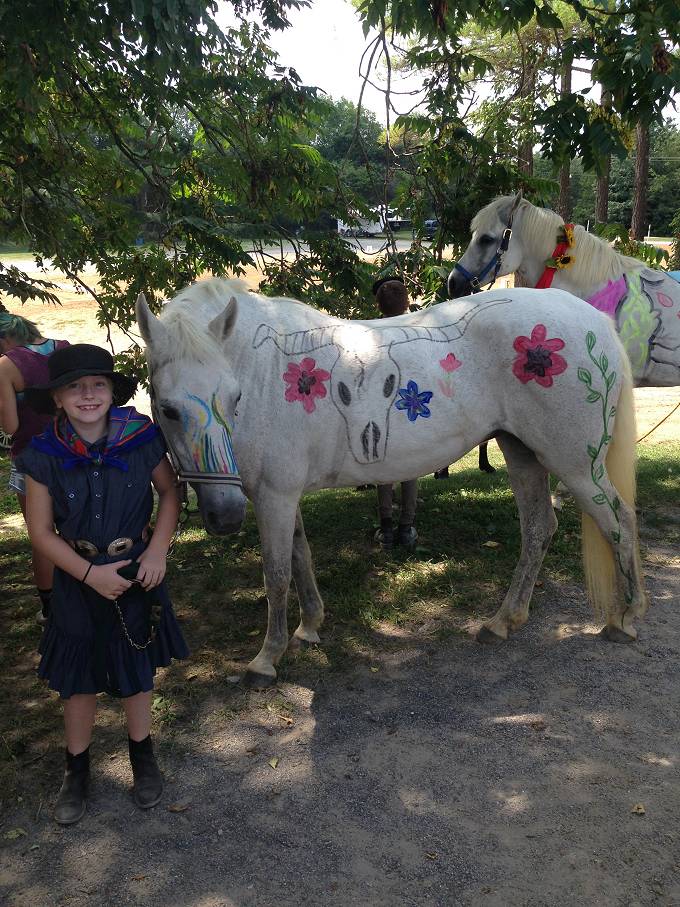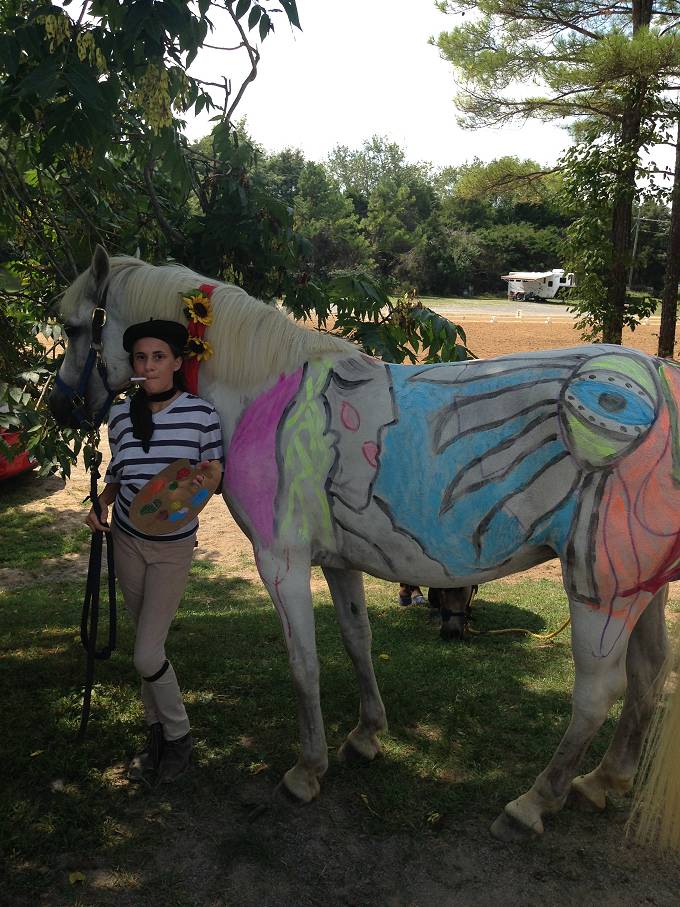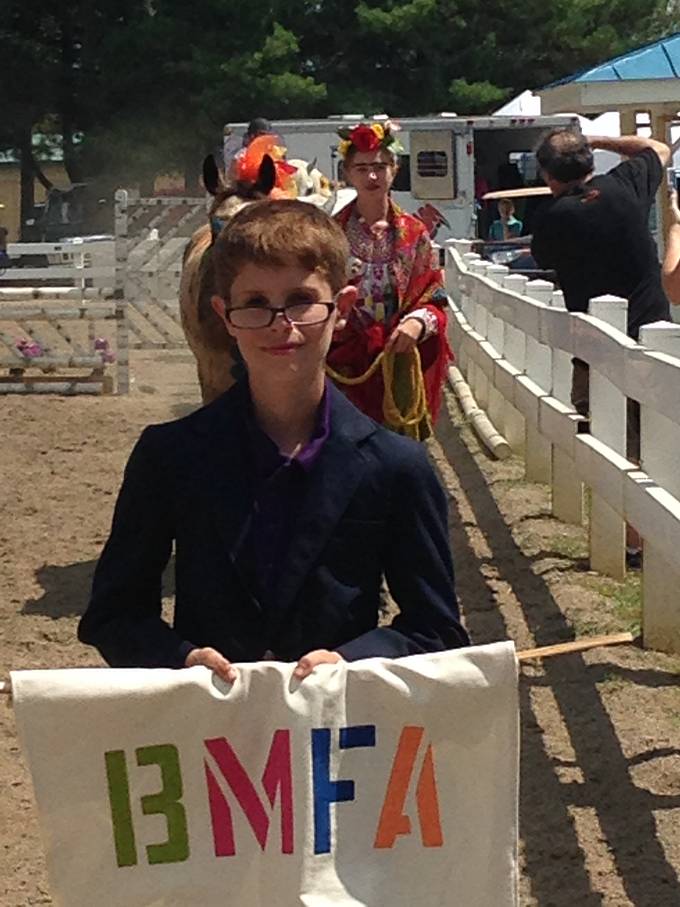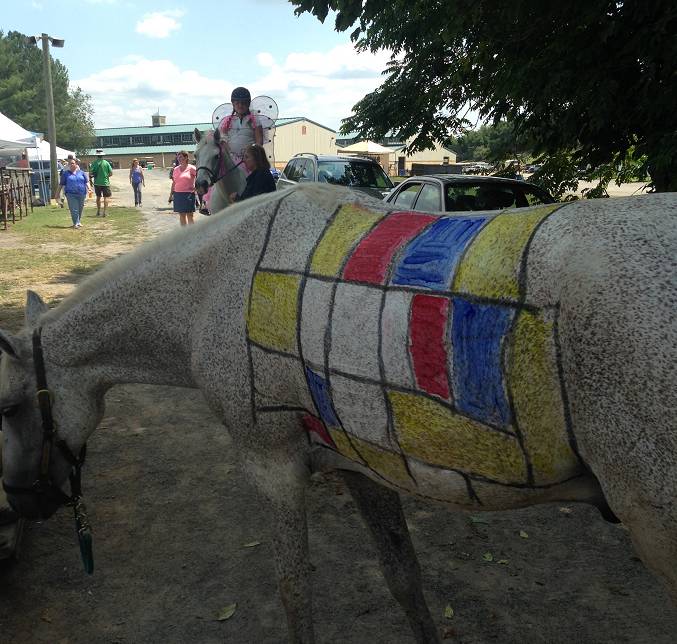 MORE LIFE AT BALMULLO FARM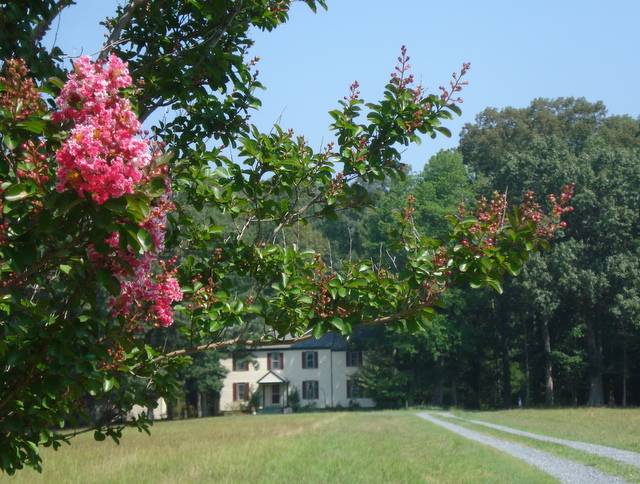 Balmullo's Summer Solstice, Bruiser's first foal: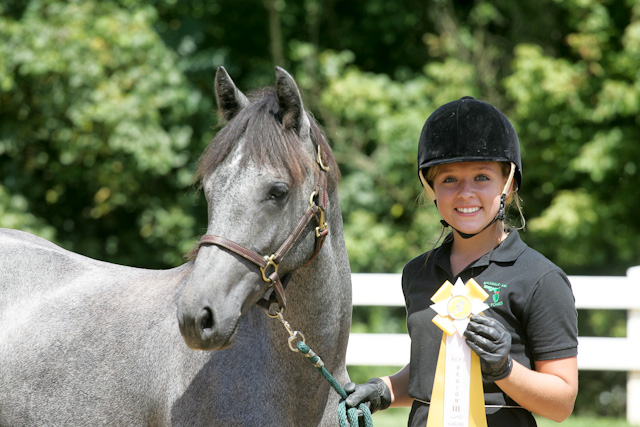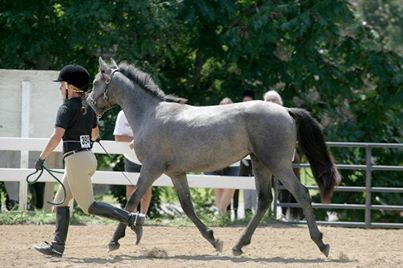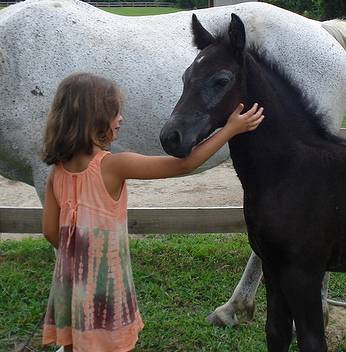 Roary in 2009, doing what he loved to do best: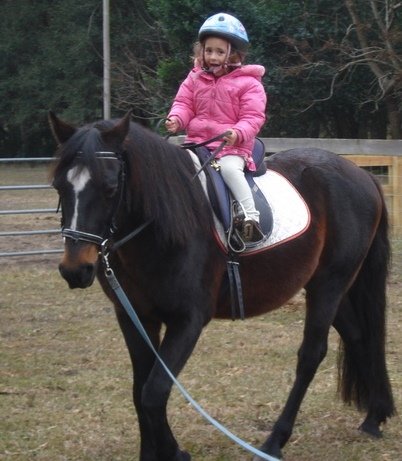 Summer Fraughnaugh on Jimbo: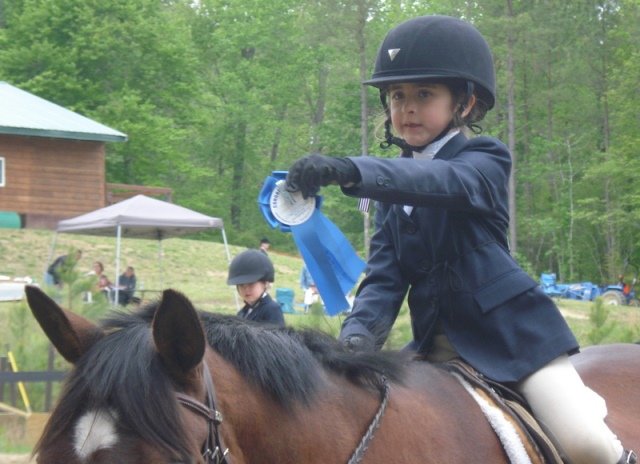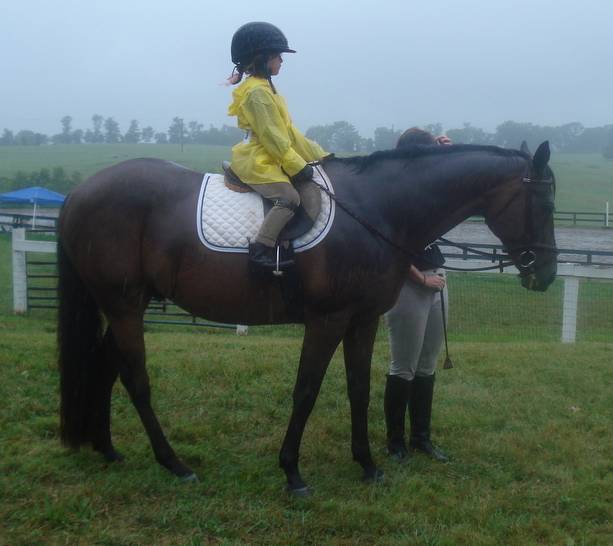 Taylor on Miss Emma doing their dressage test: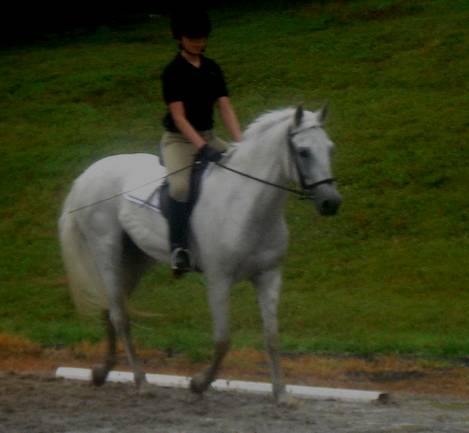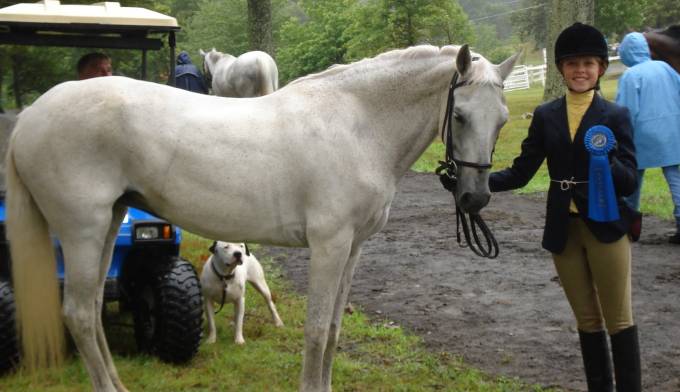 Ashley on Liffey Lad and Donna on his mother, Miss Emma, took second in the family class: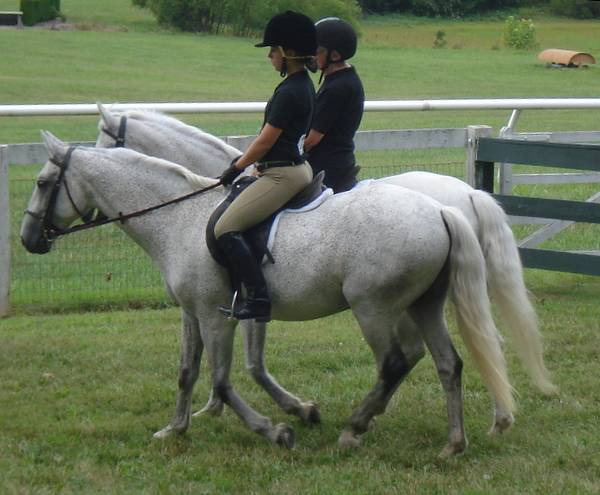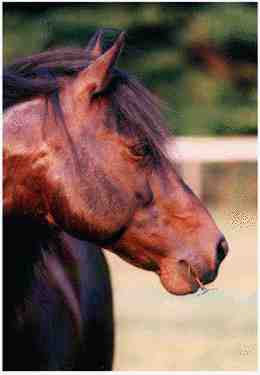 ROARY WINS TOUREEN LADDIE AWARD:
Before packing up to leave Florida we attended the ACPS annual meeting in Alpharetta, GA, where Concord River Roaringwater Bay, Balmullo Farm's long-time resident stallion was awarded the prestigious Toureen Laddie Award for a stallion that has contributed to the breed through his offspring. Roary has been a superb sire of performance ponies and also broodmares. He has produced over 75 foals, and from Balmullo Bay, born in 1985, to Roar's Last Fancy, not yet a year old, there has not been a bad one. These 75 have produced some 67 sons and daughters, who have, in turn, produced at least ten in the third generation. These are working on the fourth generation with two, a colt by Windy Isles out of Foothills Faithfilly and a filly by WH Top Gun out of Balmullo's Matilda having already arrived. As Deb Norman's daughter, Allen Clare, has said, "if you want one to ride, get one by Roary." All have superb temperaments and are extremely tractable. Plus, ahem, winsomely beautiful…and talented. We were very pleased to have Roary so honored before we left his long time home.

History:
Balmullo Farm was established in 1978 for the purpose of breeding high quality Connemaras and Connemara crosses for competition in combined training events, dressage, and the hunter ring. Our motto is "handsome is as handsome does" so that temperament is of the utmost importance in creating animals that are personable and tractable. The first purebred Connemara to come to Balmullo Farm was Rosehill's Glenconi, aka Speckles, daughter of the famous imported stallion Marconi. She joined two Thoroughbred mares living at the farm. The second Connemara was Oakhill's Sweet Ashley. They were both ridden and competed by young children for years, doing double duty as brood mares in their spare time. In 1982, a weanling colt from Concord River Farm in New England, Concord River's Roaringwater Bay (a.k.a. "Roary"), came to join these mares. Roary's dam was the American Connemara Pony Society's Broodmare of the Year awardee, Lynfield's Proud Hope; his sire, also a society awardee, Whitewood Galway Bay. Approved by the ACPS at his first presentation to a group of Irish and American inspectors, Roary has turned out to be the epitome of a kind and gentlemanly Connemara. In 2001, Roary won the Stallion class at the ACPS Region 4 show in Atlanta. He has sired over 50 foals out of Balmullo Farm mares, as well as a number of ponies at Vanessa Morgan's Foothills Farm and Deb Norman's Glendale Farm. In addition, he both rides and drives and has competed in a number of local horse trials. He has has spent many hours on the trail with both beginning and experienced riders wanting a day in the lovely North Florida countryside.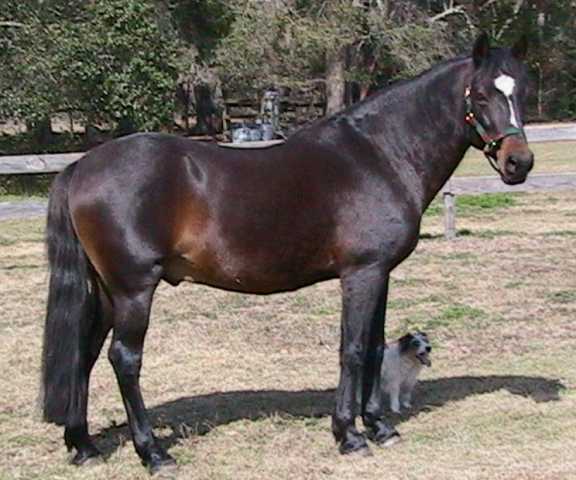 Roary is the perfect example of "handsome is as handsome does."
Click here for more photos and link to Roary's pedigree.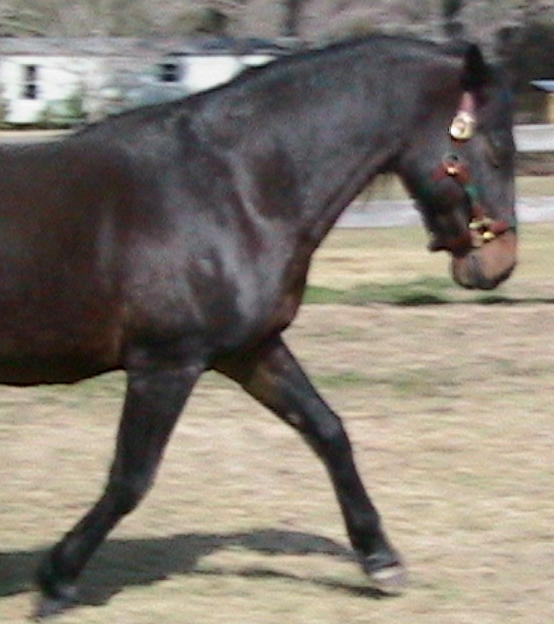 The stallion, Aladdin, well-known Connemara stallion from Virginia, also resided for one winter at Balmullo Farm (winter vacation in Florida!) and produced the beautiful Balmullo's Miss Emma (out of OakHills Miss Independence) as well as the well known stallion, Balmullo's Beacon (out of Tullymor's April Fool).
Roary and Emma have proved to be a great 'nick' producing two fillies and two colts so far.
Balmullo's Gallagher is standing at Erin Terra Farm in Missouri and Balmullo's Miss Lucy just produced her first foal by Bluebeard in Virginia. In November 2004 Miss Lucy was crowned Champion of the first-ever Mountain and Moorland Class at the Devon Horse Show in Pa., winning out over 35 Welsh, Dartmoor, Shetland and other Connemaras, and in 2005 became the ACPS's Connemara of the Year!

Seven Hills Grey Ghost (Fieldstream Nicholas X Tullymor's Heather Lass) has also produced a number of foals for Balmullo Farm. He is now owned by Mike Edwards of Ft. White, Fl, although he comes to visit alot.
Besides, Speckles, Ashley and Emma, Balmullo Farm has had a rotating band of broodmares. Some memorable ones include Tullymor's April Fool, Grand Champion at the Region 4 Show in 199X, Balmullo's Veronica (Roary X Tullymor's April Fool), Courtney's April Frolic (Custusha's Cashel Rock X Aillte Mhuire), Ballywhim Candace (by Dallen McMor), Twinkle Too, and her daughters by Roary and Fieldstream Riley, Balmullo's Little Star and Tullymor's Shandora, respectively. Both Twinkle and Shandora have rather unusual bloodlines very closely related to bothTully Lad and Toureen Laddie. Shandora is expecting a Grey Ghost foal, from an oops-a-daisy breeding, this August.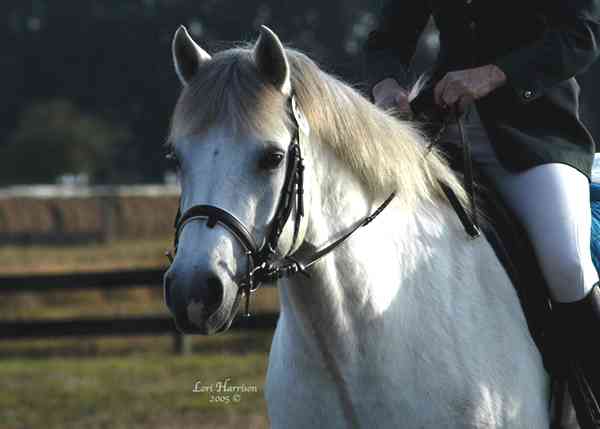 2002 started a slightly new trend at Balmullo Farm, the international trend. Our first imported pony came to Florida from Clifden, Ireland in 2002. This is *Belle Dawn (Cascade Dawn X Lisabelle). "Minnie" (pictured above and below) has proven to be a real joy, winning classes and championships at the Reg III and Region IV shows in 2003 and 2004. Minnie is in foal to Seven Hills Grey Ghost for an August 2006 foal. Because we have only produced colts for the last three years, in 2006 two fillies with international ties were purchased, a filly by Hohnhorst Branni, Ballencrief Sea Breeze, out of Aladdin's Winter Promise (whose lineage traces to Strongbow!) and Erin Terra Morning Star, out of the imported Hohnhorst Madeline by Balmullo's Gallagher. Also two brood mares, one bred in Canada and one bred in Australia will be coming to stay for awhile and hopefully reverse the trend on only colts. And as Roary is now 24, we will be scouring the world for a stallion to take his place.
Minnie (below R photo,
courtesy of Megan Harris
)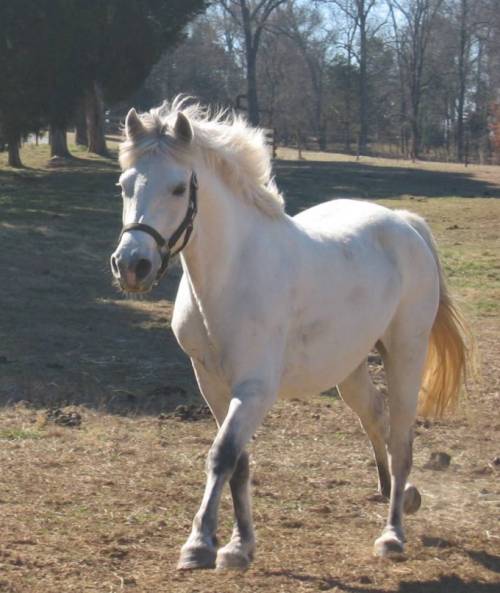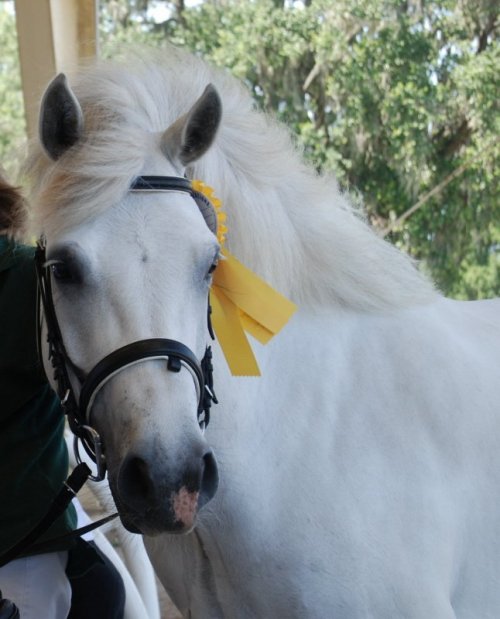 Congratulations to Balmullo's Miss Lucy, winner of the 2005 A.C.P.S. Connemara of the Year ! This award is presented to a pony that has done something special to bring positive attention to the breed. Lucy was the all-breed champion of the Mountain and Mooreland class at Devon in 2004. Lucy is by C.R. Roaringwater Bay and out of Balmullo's Miss Emma by Aladdin and is owned by Cindy O'Flaherty of Middleburg, VA.

And 2008, Balmullo's Azalea, aka Ooh La La, went to the Pony Finals in Lexington, Ky. Azalea qualified for the Green Pony Hunter Finals, The Pony Finals, as well as the Medal Finals with very young rider, Katherine Woodruff. At the competition she was tenth out of 73 in the Green Ponies!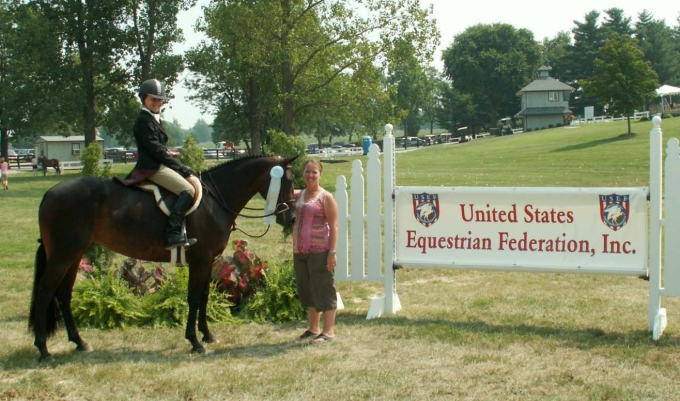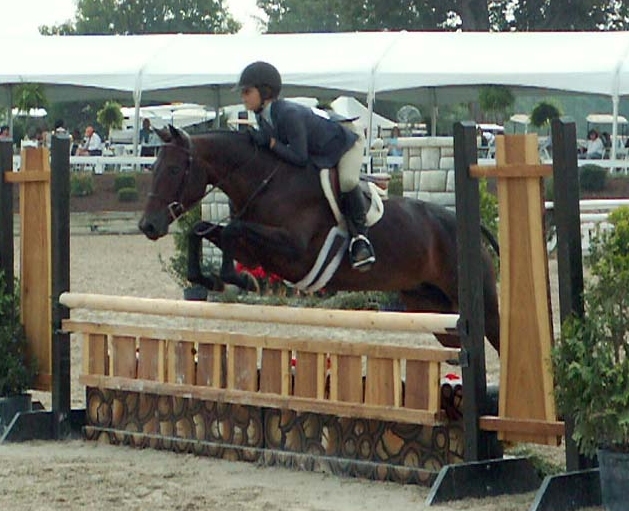 Location:
Balmullo Farm is located just east of Richmond, Virginia, in Enrico County, about 10 miles from Richmond's airport.
It is easily accessible from I-64 or I-295 and, of course, the Richmond airport. Visitors are always welcome!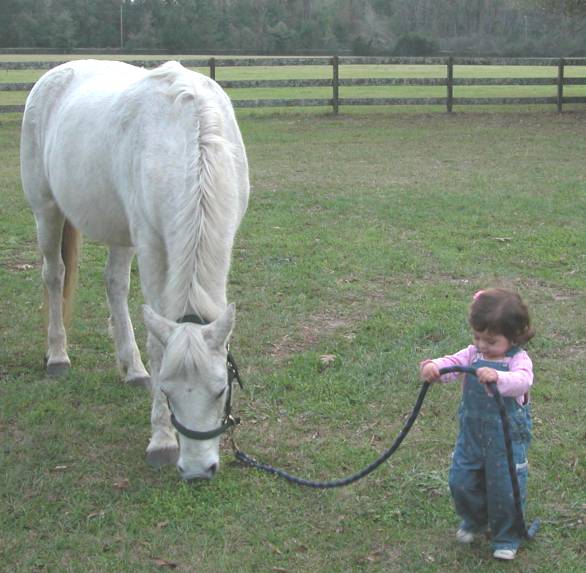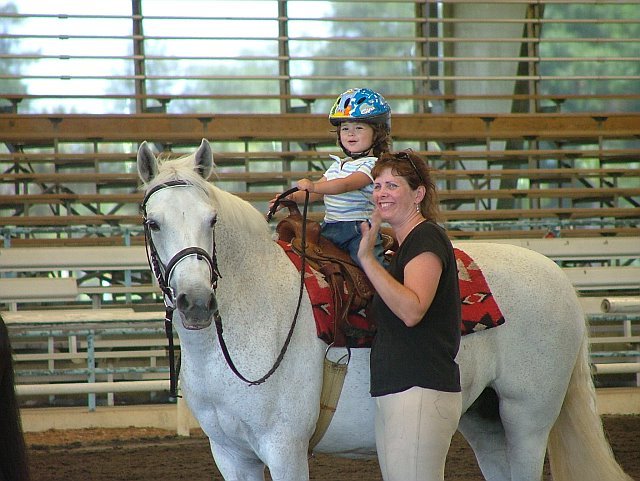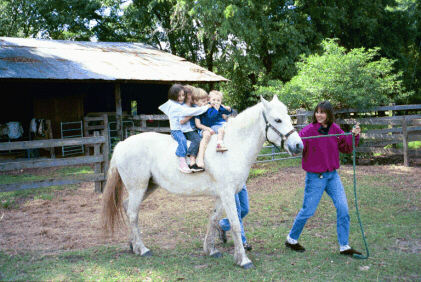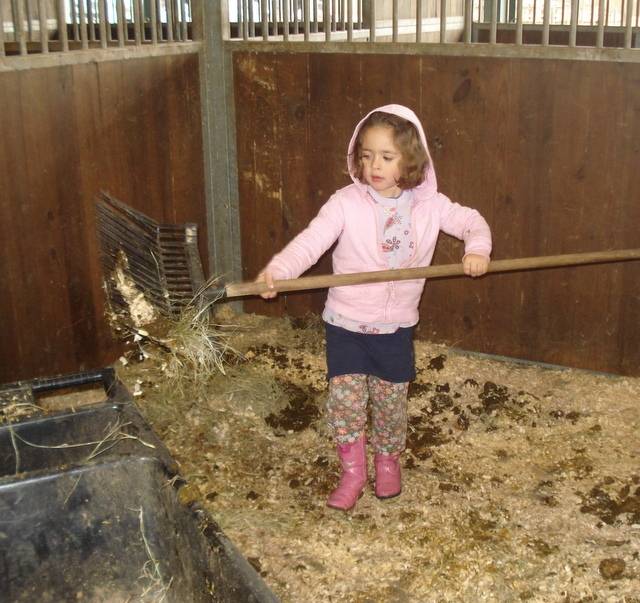 Come and visit, we will find something for you to do!