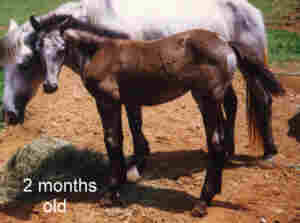 METAMORPHOSIS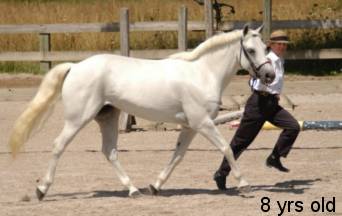 It seems like I get the most visitors to see our ponies around the Holidays (Thanksgiving, Christmas & New Years), when folks take vacation and come back to the area to visit family and frends. Of course, during these cold, wet months, the Connemaras are in their least flattering winter outfits and they more closely resemble bears than ponies. Also, the recent foal crop would be in that awkward growth period between weanling and yearling, during which time their front ends seem to belong to a different animal than their hind ends and their most distinguising feature is their belly.
These pages are for those who visit the little wooly bears in the winter and listen to the promises of blossoms in the spring...or who visit the gangly yearling halfbreds and try to envision the expectation of grace at maturation.
Everyone says they can see through the hairy stage or the lanky stage, etc., but I think it can be very difficult. The changes these Connemaras go through in their first months and years can be quite amazing, even to the trained eye.
As they say, a picture is worth a thousand words, so take a look at these remarkable transformations:
Pause at each photo and try to envision what changes may occur in the following months, then see how close you get:o)
Balmullo's Beacon, Connemara Stallion
Foothills Ladybug, Connemara Mare
Foothills Magnolia, Connemara Mare
Foothills River Queen, Connemara Mare
Piedmont Ritzy, Connemara-Thoroughbred Mare
Piedmont Sundance, Connemara-Thoroughbred Gelding
STAY TUNED FOR MORE TO COME...


FFC WEBSITE NAVIGATION BAR
[HOME] [SALES] [NEWS/RESULTS] [CALENDAR] [CONTACT US]
[2003 BOOKING INFO] [Stallion, BALMULLO'S BEACON] ['BUBBA BABIES'] [Stallion, *GUN SMOKE] [*GUNSMOKE'S GET]
[GENERAL FFC INFO] [OUR BREEDING PROGRAM] [FOOTHILLS PONIES/PIEDMONT HORSES] [OUR MARES]
[NEXT GENERATION] [OTHER STALLIONS] [CREME DE LA CREME] [MISC. STUFF] [MORPHS] [LINKS] [NESSITE]