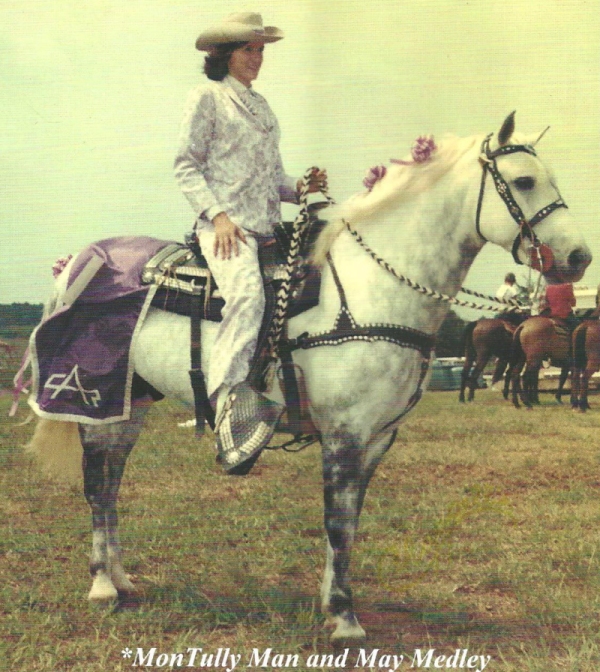 2018 ACPS Tooreen Laddie HALL OF FAME recipient


for outstanding lifetime acheivements of a Connemara breeding Stallion.
Presented to May (Andrews) Medley, long-time owner, rider/trainer,
custodian and best friend of *Montully Man.

See a few of his many decendants on my Project Tully webpage and their outstanding contributions to the Connemara pony in America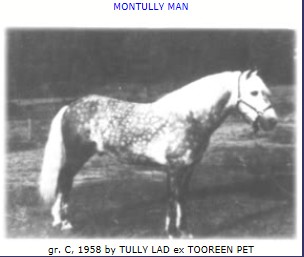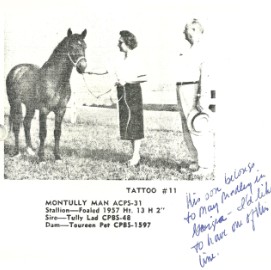 *MONTULLY MAN was imported by Rose Hill Farm, who planned to use him as their junior herd sire, as he had breeding unusual even for Ireland (TULLY LAD x TOUREEN PET, she by TOUREEN LADDIE and out of AIR PET by AIRGED). As a bonus, *MONTULLY MAN was a very flashy dark dapple grey with a thick silver mane and tail. At the time of the Rose Hill Farm dispersal, the Andrews family purchased *MONTULLY MAN, along with several of the best imported mares, and took the ponies home without getting involved with the American Connemara Pony Society or with other Connemara breeders.
By TULLY LAD (C48)
Clifden 2nd place colt, shown by T. Harold
Clifden 3rd place colt, shown by M. Devane