Let us know what's happening with you and your

-bred Connemaras, *Gun Smoke, or Bubba-babies and we'd gladly post your news here as well!
ARCHIVED FFC News & Results - 2009

I am very pleased to welcome a new Christmas pony to FFC: Dreamcatcher's Fyrestorme. She is a 5 yr old Connemara by *Gun Smoke, out of Big Bear's MacCushula. So far, she has proven to be a very sensible, quiet mare and has integrated easily into the herd. I haven't had time to work her undersaddle yet, but am looking forward to the opportunity over the Christmas holidays. Hopefully we'll get some dry, and not too cold, weather.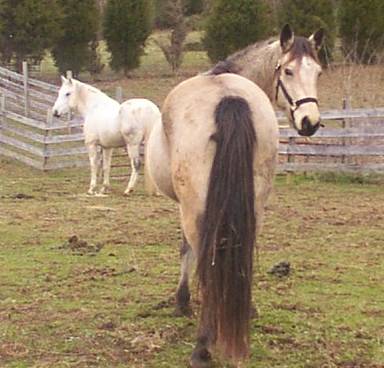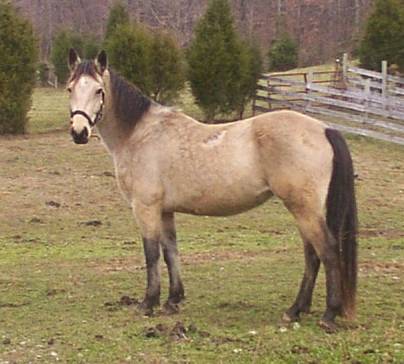 A couple weeks ago I has the pleasure of visiting my good friend, Donna Duckworth, at Balmullo Farm in FL. As I always hope, we took in a lovely ride in the Temple of the Universe. I rode Donna's 3 yr old Connemara, Balmullo's Isabelle (below), who was such a fun ride! Donna rode, Roary, the Balmullo Farm Statesman. (Dec 09)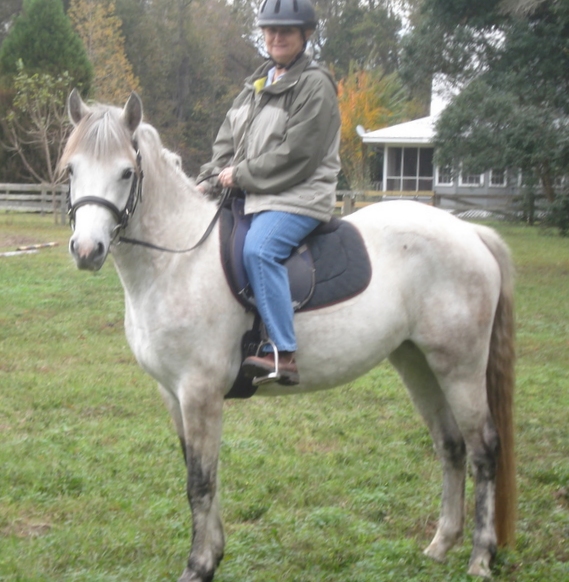 I also had the pleasure of visiting Jane Burns, and riding her "Foothill"s pony, Gus (below).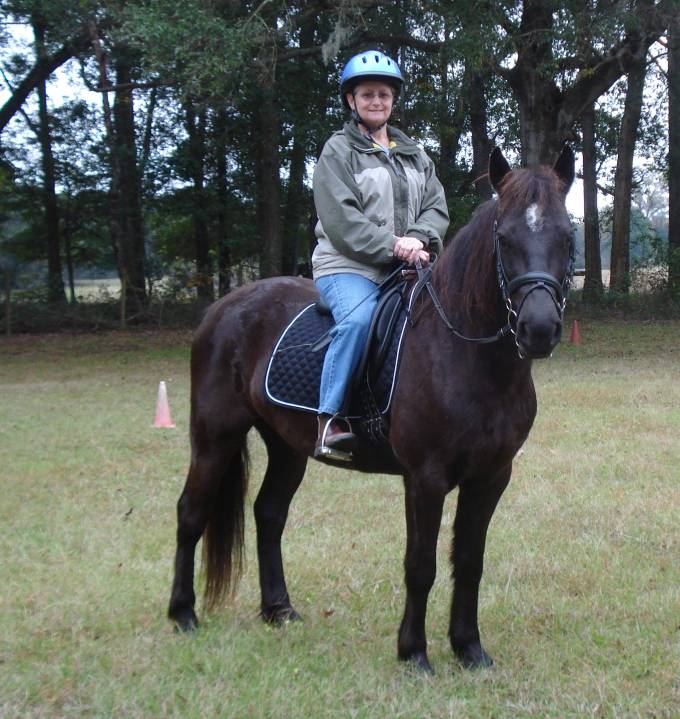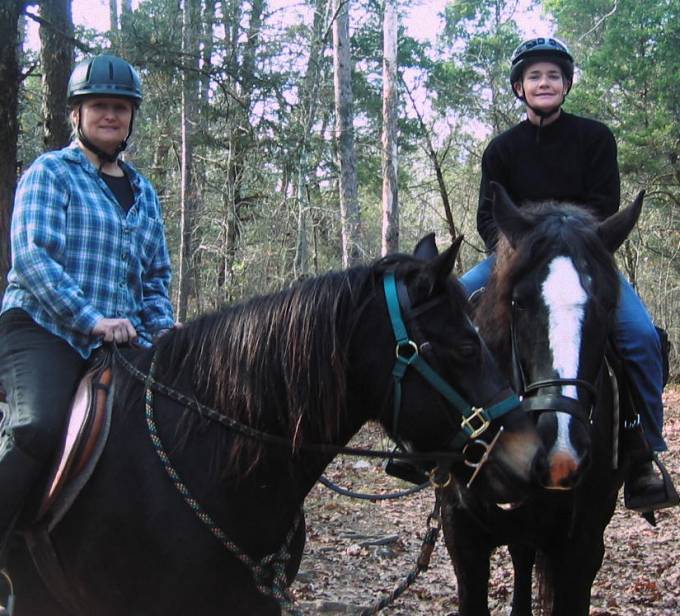 Lisa and I took in some nice rides over Thanksgiving; her on Ruby and me on Foothills Hopefilly. Top photo - Chickamauga Battlefield; bottom photos - FFC in Athens, TN.
Ruby has now gone to be with Lisa at Blue Ridge Dream Farm in Montvale, VA. Ruby and Lisa are like peas in a pod; they are perfect for each other!


Congratulations to Pat Cunningham on her purchase of Foothills Bobby Socks. He arrived at Pat's farm around 11/9/09. Pat had this to say about his arrival:
Hi Vanessa, I just wanted to let you know that Bobby is doing fine and I like him a lot. I'm definitely glad I bought him. His temperament is everything I was hoping for - very sweet, calm, and cooperative. I've been trying to spend a lot of time with him this week, having little lessons so I can see what he knows already and we can get to know each other. It was good he came when he did because we've had a week of good weather and next week I'm having arthroscopy on my knee so I'll be in the slow lane for a bit. He is a very good learner just like you said. I'm keeping everything soft and low key so he will learn to trust me and I've been very impressed at how light and responsive he is. He's going to be lovely to ride. I was also impressed at how good he was with his feet when I trimmed them. Anyway, he's starting to follow me around and lip at my coat, so I think he's warming up to me! Mike has been playing with him, so that's working out well too. He has a lot of growing up to do, but I don't have any doubt that he's going to be worth waiting for. Thanks again. Pat


Elaine M. and Foothills MayBee
Bea did a nice job yesterday despite soggy footing & rain. I was really pleased with our dressage warm-up but when I took her by herself up the hill to the dressage arena and she went down the center line facing the judges box, flowers etc, she 'lost it' a bit and it was difficult to communicate with her for some of the test. Despite that, she got a score of 37.9 and we took third in our division. It was just elementary level, so expectations were not too high. When we started XC, Bea was not so sure what was happening but she didn't stop or cause me problems and by the end she was clearly enjoying herself. I took much of the course at a trot until the last few jumps just to keep it low key and because of the wet conditions. I think she is the sort of horse that could get so wound up as to stop enjoying her work, so pushing her too much probably is a really bad idea. I think she,
overall, has a good time as she stays keen and has a good work ethic. I thoroughly enjoyed the day and she surpassed my expectations. Eventing will slow down here now and I'll look for some small local indoor dressage shows for her until eventing starts up again late in March. We're still working on stifle strengthening. I have moved Bea about a mile from home to a friend's barn where we can use the footed arena for the winter. That will be a big help. My friend, Colleen, has two Connemara cross mares and the three 'girls' go out together very well. I'm still taking care of her much of the time as Colleen and I share the chores. So...you can be proud of Bea --- I am! cheers, Elaine (Nov 09)
P.S. I've attached a photo from at the event....don't have any 'action' photos....so, you can see that Bea is looking good albeit shaggy. This is before we competed....we were not so clean when we finished!


Carole Moss has a new driving pony! Meet Onslow (pictured below). Nope, he's not a Connemara. He's a Fjord. (Nov 09)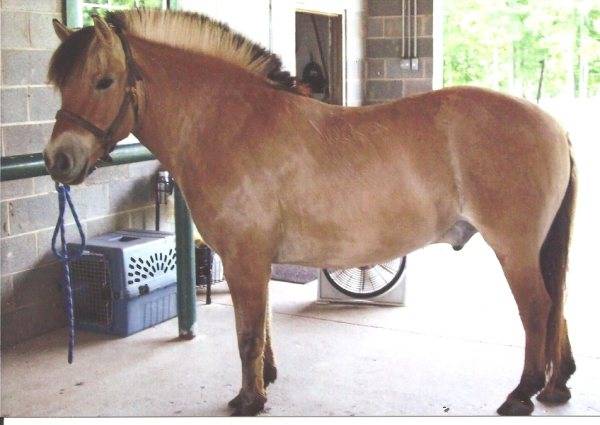 Below: Onslow's first morning at King's Point. You guessed it! Those aren't Connemara's either:-O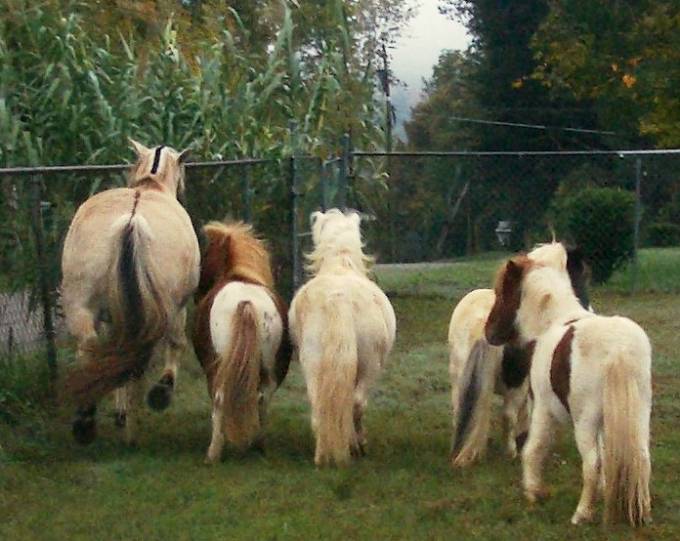 Yes, we are the proud owners of Beacon's Kaleigh, a sweet pony that we bought this past spring for my daughter. Kaleigh is a true delight and I'm finding I'm falling in love with her more and more each day. Kelly, my daughter who is 9, absolutely loves Kaleigh. These days they spend a lot of time together under the persimmon tree just hanging out together while Kelly knocks down persimmons for Kaleigh. What a pair! Kelly is not showing Kaleigh yet but probably will in about a year or so. I'm not pushing. Thank you so much for contacting us. This is such a wonderful breed. A breed that I'm definitely sticking with! Cindy (Oct 09)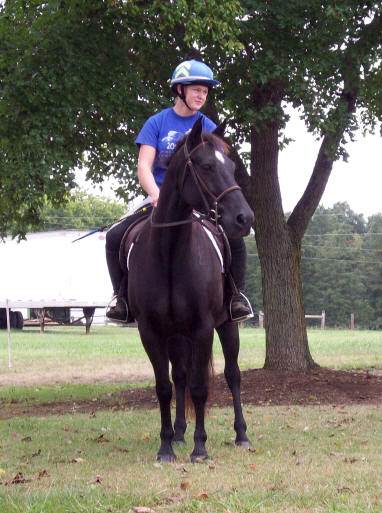 Just wanted to give you an update on Daddy's Money AKA Precious (by Balmullo's Beacon)

She is doing so well! She impresses me every time she is worked... She is doing awesome! We started her over fences about three weeks ago and she loves it! Last weekend we took her to TTC's Schooling Hunter show, I was amazed at her wonderful mind and sweet willing attitude. She neighed once when she came off the trailer then stood for hours, just happily eating her hay! I entered her in 2 classes, beginning hunter 18" and schooling hunter 2'. She placed 5th in 18" and 1st in 2' and the classes were full with 10-15 riders each.

Tender Mercy Farm Sales



Give Bubba a kiss and tell him that he should be proud of his wonderful baby!
Talk to you later,
Angel


...here are a couple from the hunter pace on Sunday. Faith was great and Clare and I had a really nice ride. We were our own team and were a little slow but had fun. This has been the first summer that Clare has been old enough for us to do a lot of riding together and it's really been fun for me. Clare and Faith might go out with the hunt club on their pony club guest day in a couple of weeks (in the second field - the slow group!).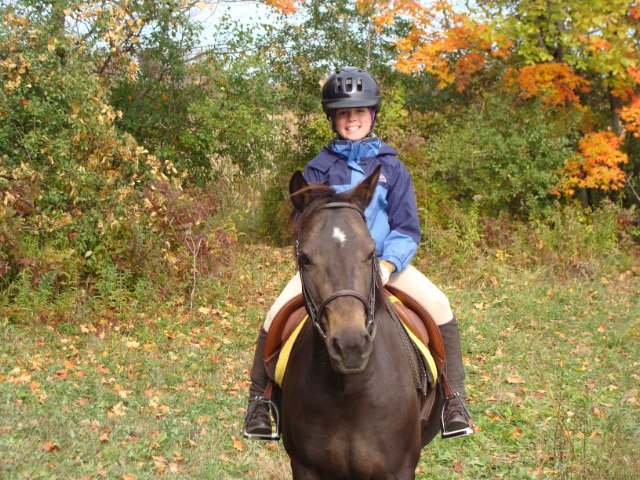 Clare Cunningham on Foothills Faithfilly (by Balmullo's Beacon)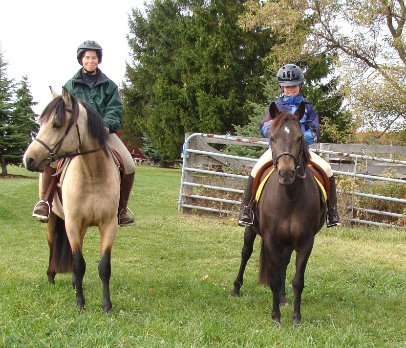 Clare with her mom, Pat, on left


Marion on Conor, (TB cross, by *Gun Smoke) with the Woodford hounds 10/13/09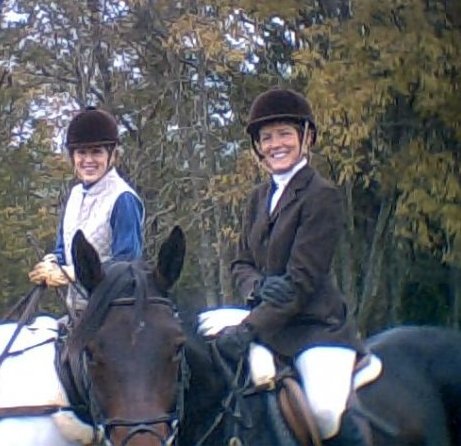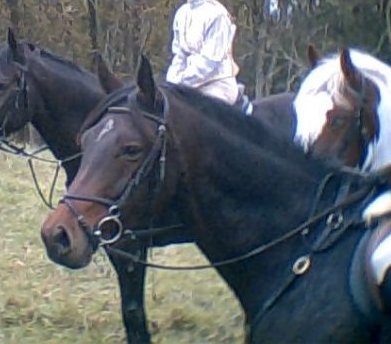 Carole and I went to the National Drive again this year, at the KY Horse Park. After settling the horses in on Thursday and setting up camp, we went back to the barn to hitch and tack up for a short ride/drive, while there was a little break in the weather. It turned out to be a lot longer than we planned, when one of the mini's bucked, bolted and dumped her driver, getting caught in the trees and breaking the cart. Thanks goodness for Carole's 'spares box'!
Friday was a wash; rained practically all day. We took that opportunity to find a tack repair shop for all the broken halters I brought along, and of course we did some shopping.
Saturday, the rains had stopped, but it was still cloudy and very cold. Carole did the driving parade and I took TeaGo for a nice long hack around the park and cross-country course; he is so good about all the different driving rigs, mules, drafts, minis and teams. Later that day, Carole and I went out on cross-country with Cooper and Carole let me drive. I took super Cooper through the water, in which he almost had to swim. It was quite deep from all the rains the previous couple days. I had to put my feet on the top rail of the cart to keep them from getting soaked. I also got to drive my first cones course (though slowly, as the arena was a bit busy) and it was tremendous fun. Later on we went for a drive with Sue Curtis and her pair of Clydesdale-Dales geldings. Sue let us each have a turn at driving. After all my fun with Cooper and Sue's pair, my interest in driving is growing.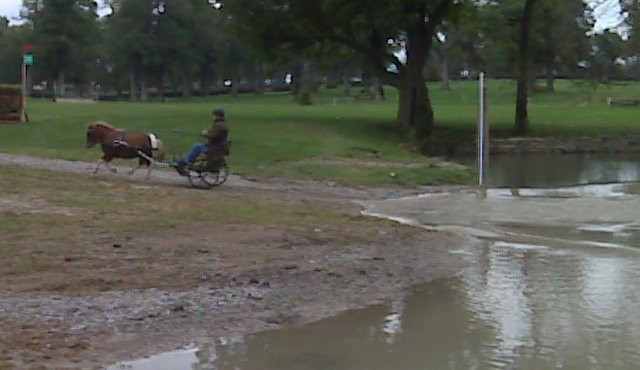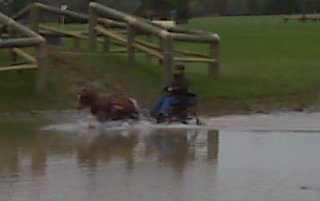 Sunday was the Mimosa drive, which was delightful! The weather was perfect, the scenery lovely and the horses wonderful. Regretfully, we had to pack up and head back home for work on Monday.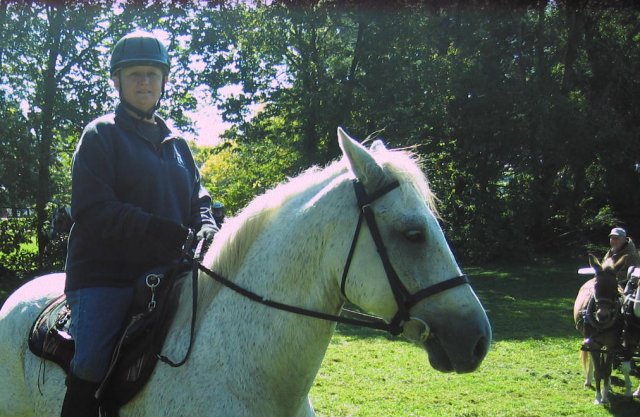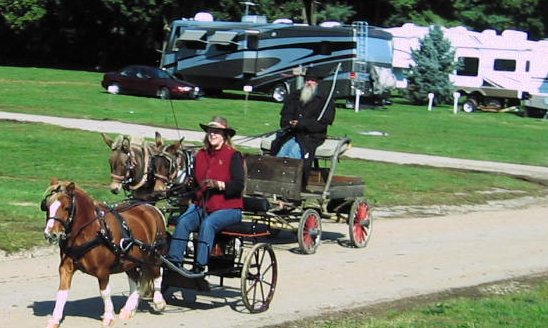 Palm Beach Gardens, FL: Janet Hibel has written to say that Balmullo's Cassiopeia (Balmullo's Beacon X Blue Hill's Morning Star) qualified for the USDF Region 3 Championships at the Wellington Classic Fall Challenge Dressage with a 64% in Training Level Test 4. She also got marks of 65% and 62% in Training Level Test 3 and her second-day Training Level Test 4 respectively. They also were part of the winning team for the Team Championship. Janet says,"Got lots of training ahead to compete in the Regionals!!"ACPS Weekly Pony News 9/27/09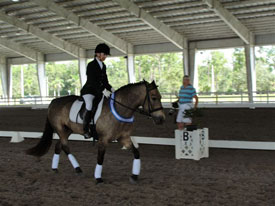 Foothills Foggy Morning
passed inspection at the West Coast Connemara Show! She also brought home a pile of ribbons in hunters, trail, line and
dressage. She placed 3rd and 4th in the Open USEF, USDF dressage with 65 and 66 scores. She has brought home several red and blue ribbons in local
jumper and dressage shows. She has a "you ask, I deliver" attitude. Darion (9/09)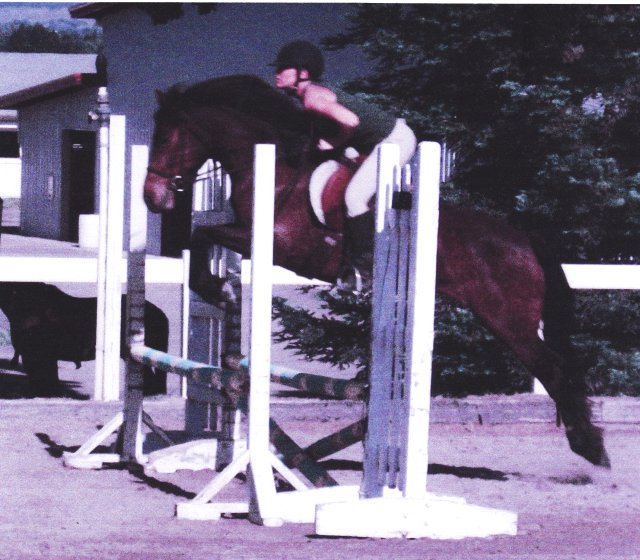 Tollie Banker and Keogh (by *Gun Smoke) showed at Windrush Farms in Lenoir City, TN, in July. They received a dressage score of 65% for a 2nd place and a 63% for a third.
Then they got a 1st and a 5th and the second Windrush show. I think we're done for the fall but we'll definitely pick it back up in the spring. He is doing so well.



I sold Lazer Lavender last year & when the new owner decided to sell her this spring I bought her back!
We're eventing now, and she is already jumping training level. She's been to 3 shows and has been all clear at all of them.

Here's a video from this last weekend of her schooling XC. http://www.youtube.com/watch?v=vYldYAXJWP0 There were cows on the XC course! and she schooled a prelim water option, a full coffin, and weldons walls with no problems. She is a super talented very forward thinking pony!

Lavender is turning into a super star eventer like her sire!! I'm very glad you've decided to offer frozen semen for him, I'd love to breed her mother to him again!! (Laura S 9/09)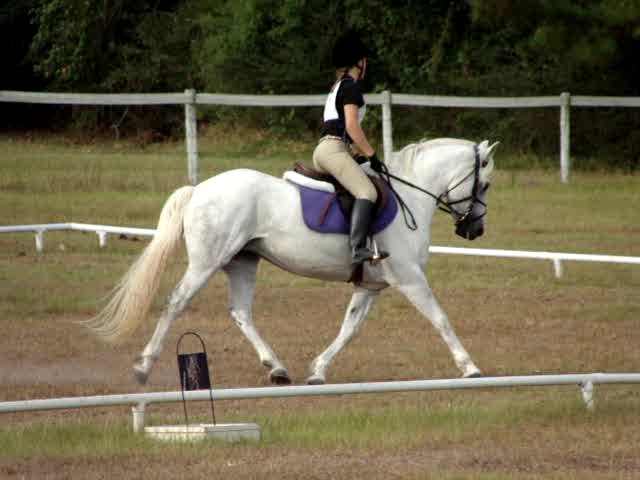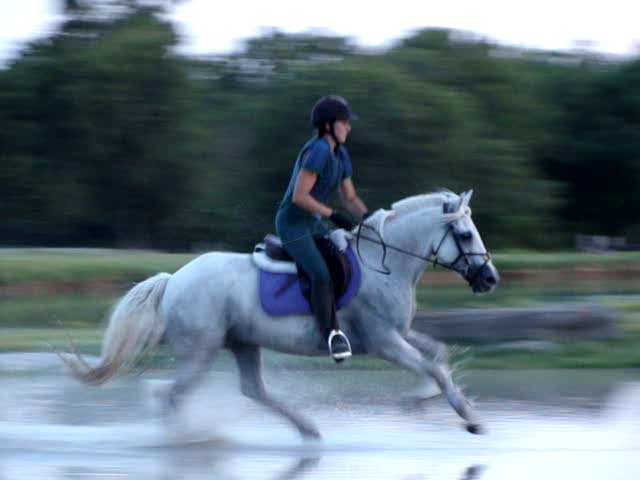 Smokey's Design
(by *Gun Smoke) placed first in a hunter-jumper show in July. He is an exceptional half-bred who has a promising career who is proving his ability in competitions.

Alice Verbrick and Bally Britta (photo below) completely dominated the tadpole division at Jumping Branch CT on August 22 winning 1st place and scoring a 25 on dressage and a clean round.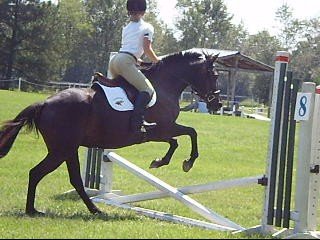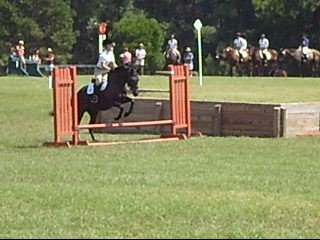 Bruiser
surprised everybody by becoming a (potential) father at just 14 months old! Balmullo's Miss Emma (Aladdin X Oak Hills Miss Independence), retired from breeding after she developed COPD, had been living with the babies since they were, well, babies, and I didn't worry about her as every time Bruiser approached her she would kick him. But when summer came and I never saw her in heat I had her checked and low and behold, she is to be a mother again. So she is having a bit of a difficult summer but, hopefully, she will be 100% by the Spring when baby Bru is due. The summer in Florida can be very hard on the ponies. Bruiser is, luckily, (or he would have been a gelding long ago) a big-boned, big moving, beautiful bay boy and will make a wonderful breeding stallion. (Donna D 9/09)
Balmullo's Dixie Chick
(*Gun Smoke X Elphin Chickadee) started her training with Luke McLaughlin and was a star. At just over two years old she walks, trots and canters with never a foot wrong. (Donna D 9/09)
From the ACPS Region IV Newsletter (9/09)

I thought you might like to see some recent photos of Faith (Foothills Faithfilly, by Balmullo's Beacon). These are from regional pony club D camp last week, where Clare got her D2 rating. Clare and Faith are learning how to jump - although it is mostly Clare who is learning. I'm pretty sure Faith was born knowing how to jump. She is a great pony for Clare to learn with - sensitive enough that she can really learn how to use the aids but very kind and patient. All of the kids at our pony club love to pet her because she's so sweet. We had regional camp for 3 days last week and then our local club camp that just finished, so Faith is ready for a week off! My proudest moment was on the first day of local camp during the grid lesson. Of course the grid starts out easy and gets harder... it ended up with a 2' oxer at the end of 3 elements, which was bigger than either one of them had ever jumped before, but the instructor didn't know that. I was cringing and bracing for the worst but Faith popped through it like she had done it a hundred times. She got 2 carrots after that!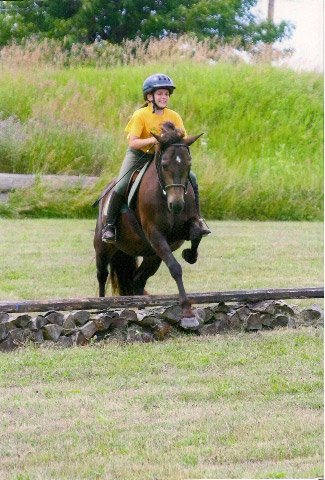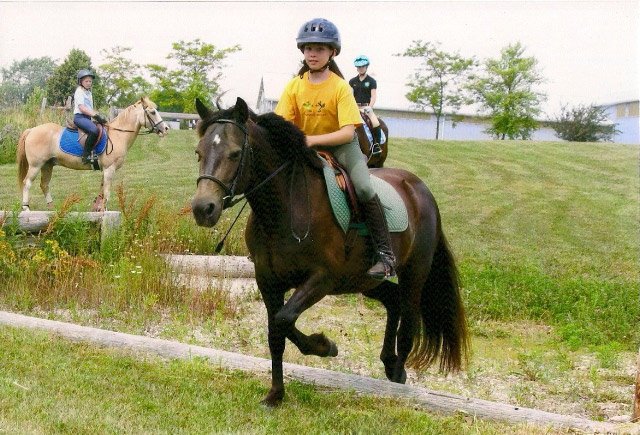 I read about the Region 4 show. I'm glad you are having fun with Bubba and getting out with him. There is going to be a Midwest Breeders show at the end of August about 2 hours south of here. We're going to go and take Faith (Clare insists) and Mike Mulligan who is 2 now and rapidly filling out. He looks like he'll be 14.1 and a perfect type for hunters. Really lovely conformation and movement and very athletic. I'll try to get some photos at the show. Pat (August 09)

Palm Beach Gardens, FL: Janet Hibel reports that Balmullo's Cassiopeia (Balmullo's Beacon X Blue Hill's Morning Star [by Blue Hill's Boy]) went to her first USDF rated show this weekend in Tampa, Florida. Janet says, "Her scores were 66% in Training Level Test 3 for first place, and 69.6% in Training Level Test 4 for a second place, with her first Qualifying Score for the USDF Regional Championships. I received my first "9" in a rated show!" Janet says she just needs one more qualifying score to make it to Regionals. She noted some of the comments from the judges such as "lovely horse" and "this horse is worth millions." Janet added that conditions for the show were rain, thunder and lightning but "Cassie" kept her cool. (8/09)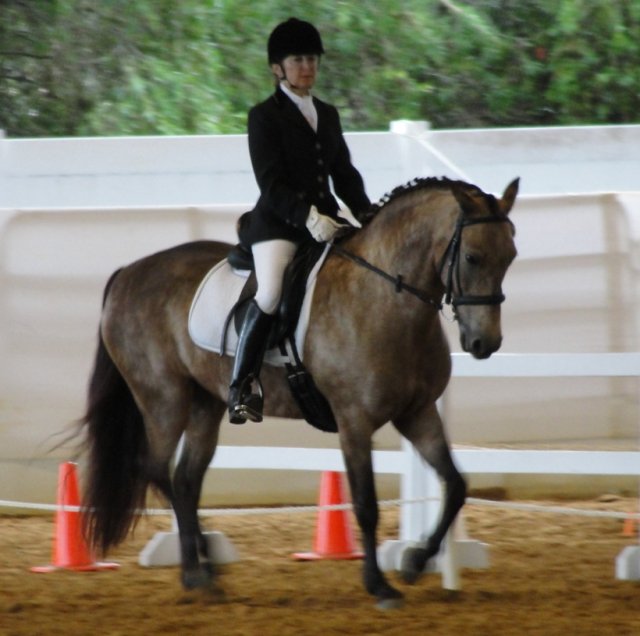 Sophy (Foothills Smokey Bay) is doing incredibly well, I started her in July and we are happily trotting all over the place! She has been a dream to start, in fact I didn't get on her for a couple of weeks and just threw the saddle on one nite and picked up where we left off, no big deal for her:)

I'm hoping to take her to a little local show in Sept for a walk/trot class. I took her to this same show in June for an in hand class (which she placed 3rd in) just to get her off the farm and used to being tied up to trailer for day in strange place. She handled everything well, I'm so pleased with her! I've attached a pic of us in the ring the other nite, camera (or Andy) was focusing very well but you can get an idea of what she looks like now. I personally think she's just beautiful but then I'm a little biased:) I can really see Gunsmoke in her.

I'm going to go ahead and breed Sophy next year, if I can bear to not have her to ride. I'm hoping to start trail riding her this fall, there is a county trail group I want to get involved in. I have a friend with a small teaching program in SC that I'm toying with the idea of sending Sophy to her to use in the summer and get some show miles on her. (Beury S 9/09)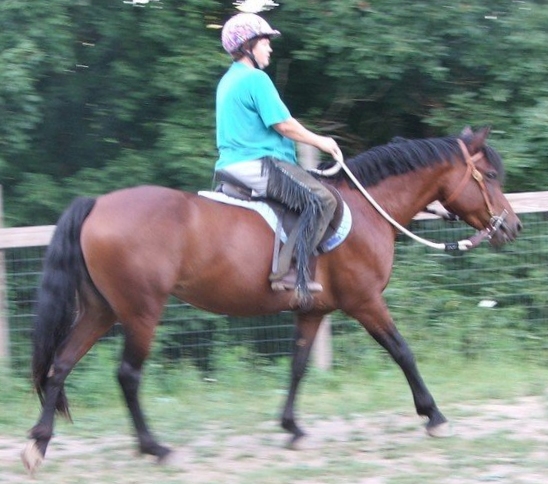 Vanessa, just an update so you know that MayBee is doing fine. She got new front shoes last Thursday and seems fine with them. The farrier is fabulous---did 5 years of training in the UK and is certified. Has worked at Rood & Riddle in Kentucky and now is here because his wife is a vet at the hospital. Lucky to get him. He has Bea very balanced. She is wearing bell boots for 2 weeks just as a precaution. We went on a 2 hour trail ride on sunday and went through lots of water including a wide rocky river. She was suspicious at times --- lots of other riders & so forth, but went when I asked. Had a really good time. Our second
jumping lesson is next Monday--very fun. Her new jumping saddle fits her beautifully. No worries about Bea, she seems content. (and she loads into the trailer like a charm now!) Hope all is well with you and your family, best regards, Elaine (May 09)

I thought I'd send you a Keogh update. I can't believe he just turned 5 last month and boy has he grown. I have no idea how he got so tall but he's close to 15.2 and he is finally beginning to fill out a little. He doesn't look like a baby any longer. He is coming along nicely with his training. I have been taking lessons from Christy Hart at the Hiwassee College Equestrian Center and with her help Keogh is moving forward on the bit, he leg yields wonderfully, and we have even done some shoulder fore. Last night he was doing simple lead changes. His canter is wonderful! He also has a wonderful attitude even though sometimes hes a little too smart for his own good!

I have attached some photos of us at the Crossroads Spring Dressage Show at Penrose. We got a fourth and a fifth despite the rainy weather! Tollie (May 09)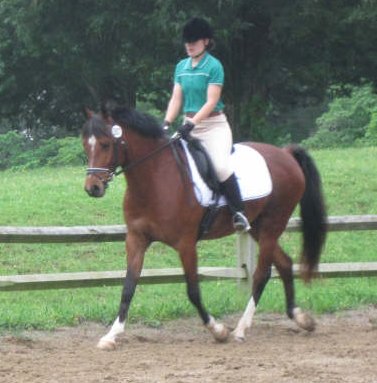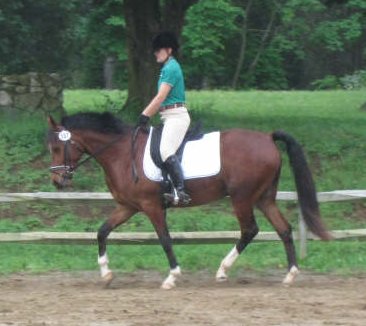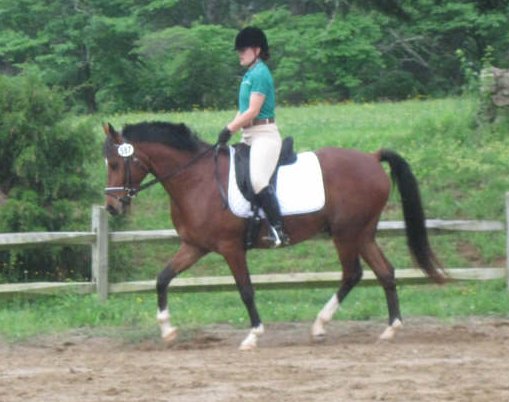 Cooper
and I and Mark went to the MTCC Traditional Day of Driving show today.
Brought home 2nd best in cones, first in the Open division and grand champion overall. I am overwhelmed, thoguht we had a marginal performance day. Beat all the horses and pomies, we were the only VSE in the field. Stayed clear for most of the day, raining now on the way home. See ya soon, Carole (May 09)

Hi Vanessa, I've actually had such fun at the two USDF shows I attended that I am going to the USDF in Aiken in lieu of the Connemara show in Thompson. I had been planning to send you a message about that. I hate to miss the pony show, but want to take the opportunity to go to one more USDF show while I can. Since Aiken is the weekend prior to Thompson, I know I won't be up for travel two weekends in a row. My goal at our first USDF show was 60% at Training 4. We earned a 60.8 and a 60.4. Last weekend in Tryon I set our goal at 62%. We earned a 62.000 at Training 4, but even better, a 60.8 at First 2. Then on Sunday we bombed out with a 51%. Dundee is not normally stalled and by Sunday he is just "over" it all. But the fact that he loads in the trailer, stays in the ring with me on him and listens to me is a huge behavior improvement. The natural horsemanship is working wonders!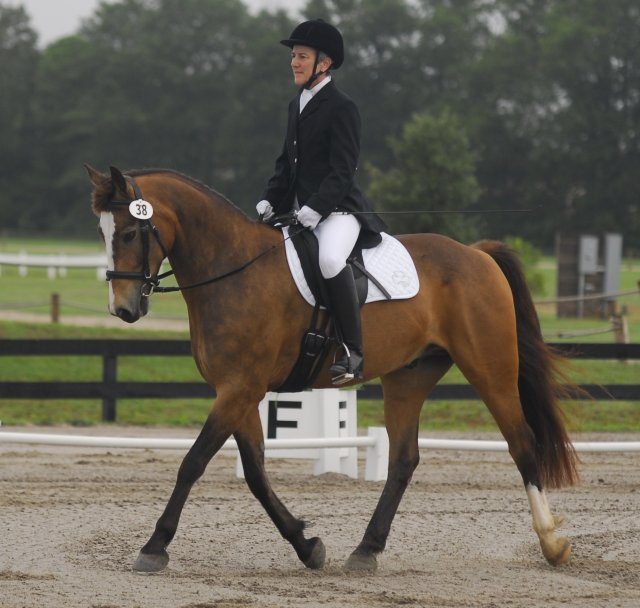 Here's a link to photos from our Latta show: http://www.wncphoto.com/026.latta0409/
Put your cursor over the photo when you open it up and the "proof"
label will disappear.
I hate I won't see you at Thompson, but you'll be proud to know that your grandbaby has qualified for his ACPS bronze medal. If things keep going our way this year (knock wood) he'll have qualified for silver by year's end, if not sooner. Kathy (April 09)

I took Juniper to a clinic with a lady I really trust named Diana Rich. She is an ICP level 3 instructor and has taught pony club for us before. Anyway, we decided that some of the maximum open oxers are a bit too much for the pony's ability and since the training 3 day is a championship course, it may not be fun. So, I've revised my plan and am probably going to either give her the summer off or find a good lease for her, where she can learn something new.
I'm pressing on with Conor and am planning some shows for him. He did the clinic as well and was very good at the BN level. He was a bit strong x-c so made some changes in the bridle and am working on keeping him up. He is the first horse I have ridden where the instructor says he is already connected and doesn't need to be round. He is getting braver as he matures but is no bubba baby in that sense. I took him to a hunter show Saturday and he won every class I entered him in. They really like his movement and the classes were 20+ horses and ponies. I was surprised but it is good to know. We just did poles and crossrails to give him the exposure without him having to worry about keeping his balance.
We have a new filly named Lily born on Easter. She is a flashy dun with 3 white legs and a funny blaze. Celeste is 2 years old and can't wait to get in the pasture with that new little playmate. Hattie wants nothing to do with that just yet. She doesn't mind Conor but doesn't like the mares around her baby yet. I have only heard that Bailey arrived safe and sound. I need to contact them and see if they are breeding her this year. Sundance has a new owner named Cheryl McCain. She has done two BN shows with him and he has been a saint. I received a gold medal in eventing for him from ACPS today. I miss having him around. I gave her a membership to ACPS for a year. Hopefully she will rejoin after the year is up. I also gave her your name and website. I'll send her contact information to you if you want it. I don't have it right here now but have a paper file. I expect he will be with her for life but you never know how things will turn out. Wish I could do the Wofford clinic but I think Laura graduates that weekend. She was out so much for snow this year, graduation has been delayed.
Hope you are able to ride more this year. Even if it is at home and around the farm, it sure is fun on these nice ponies. (April 09)

Hi Vanessa, We will be up-dating our website soon. I don't have good computer equipment to send photos so hang on. We are taking FM (Foothills Foggy Morning) to inspections at Twin Rivers, the West Coast Connemara Show. She will also be competing in dressage, hunter, trail and on the line. She is a lovely
mare and she won't let us down. She has never taken a lame step. We may also be taking her filly Rosewood Doon Buggy for inspection and on the
line 2 year olds.
Vanessa, I can't thank you enough for selling me FM (we call her Emmy) . She is kind, quiet, smart and trainable. She was a terrific mom and even let
her friends filly nurse from her. That was something I had never seen before. Her filly, now 2 years old is just as smart and quiet. Emmy was my first
purebred Connemara and I hope to breed more like her. Darian (April 09)


An update on the start of the adventure with Juniper and Mom – we did Spring Bay HT, Novice this past weekend. Thank goodness we had good weather and not this mess we are having now. Hattie is over-due and the moon is full so we are hopeful this will be the night for the new foal. Anyway, back to the story, we had a fair dressage test, nothing special but a steady test to put us in 6th out of 15. It is hard to get her excited about the dressage (me too). Next was stadium and we had one of those hurry up and wait situations so we ended up dozing under a pine tree just before going in. Fortunately, the person in front of us had a rail so we got to trot around a few seconds to wake up and get started. She was perfect and I have a really cute picture of us jumping a pink jump that I'll have to scan to send you. Moved up to 5th, then next morning went x-c and had the best ride, 50 seconds under time without any encouraging and more than a little holding. She was so bad in warm up and it made me laugh to think of Laura and the other kids she has bucked off in warm up from just being so enthusiastic. I just did a cross rail and she let me know with a scoot and boot that she remembered the job even if it had been 3 years since her last time out. So instead of fighting her, we just finished our gallops and went and stood near the start box until our time to go. She stood calmly in the box and when I clucked for her to go, she tucked her hindquarters under her and off we went full speed ahead. We ended the day joining a picnic where she was robbing watermelon out of someone's cooler and getting more than her share of carrots from little kids who are drawn to her because of her small size. I was happy she remembered all about the eventing job and even though it is not as much fun as fox-hunting, she did seem to enjoy it for the most part. Hoping you will join us with Bubba again soon. Safe travels, Marion (April 09)


A very nice lady flew out from Ft.Worth to take a look at Blue Jay (by *Gun Smoke) and he is now sold pending a vet exam. I think this will be an excellent home for him. He is such a sweet and good boy. Warm regards, Sue (April 09)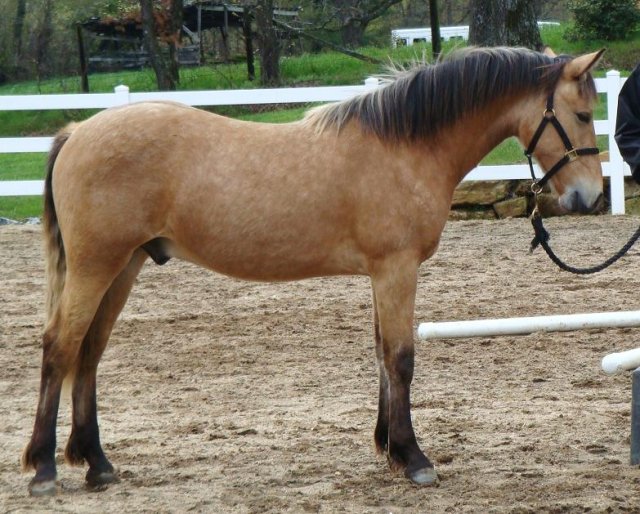 Rosewood Farm, Windsor, CA sent Foothill's Foggy Morning (*Gunsmoke X Balmullo's Rhiannon by Concord Rivers Roaring Water Bay) to her first show at Santa Rosa Equestrian Center on April 6th. Megan Lepper rode F M to a blue ribbon in her green jumper class. This was F M's first time off the farm since arriving
from Foothill's Farm in Tennessee. She had been busy raising her filly Rosewood Doon Buggy by MGRM Brigadoon but is now a working girl.


One of Bubba's offspring was competing at the Camden Hunter Trials. BallyBritta (1/2 TB) 7 year old black mare - very pretty. She's owned by Mary Hughes and leased by a 13 yo girl (Alice Verbrick) who will probably buy her. They may come to our Region IV show! She got a ribbon in 3 of her 4 classes - 3rd in Jr Hunter, 4th in Open Hunter (2'3") and a 2nd in Pairs. Kate (Mar 09)

Just wanted to share these pictures with you all. Aubrie rode Chick for the first time today...Chick is due to foal the end of April. She has not been exercising herself enough so we decided to resume riding her to keep her from getting even heavier than she is right now. I rode Chick every day for the last week and she has been so good, so I put Aubrie on her and Chick seemed to enjoy carrying a "light weight" around the arena. Sue Holland (March 09)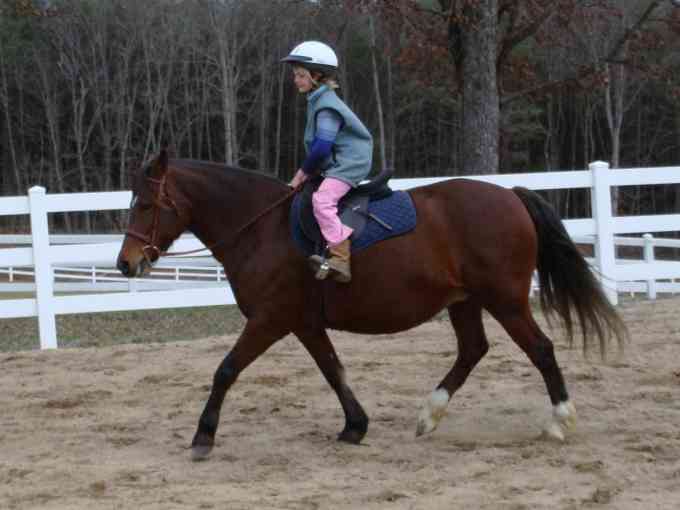 Blessing of the Hounds (3/09) Update on Foothills Juniper (Balmullo's Beacon x Blue Hills Morning Star) and Arbor Lane's Conor (*Gun Smoke x Hattie Beleau(TB)) Highlight this winter was taking Laura for his first hunt first flight with the Woodford Hounds. It was a cold but lovely day for the blessing and we had a lively hunt with beautiful scenery at Shaker Village in KY. Juniper took good care of the kid even though she is hardly a kid anymore as she is off to college in the fall. Though you might enjoy these fotos. Marion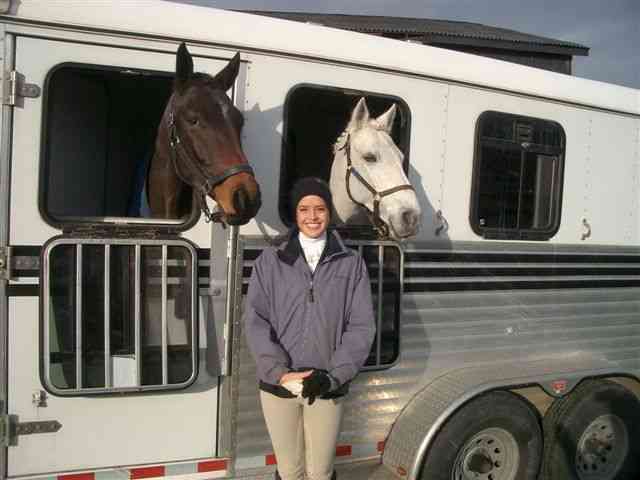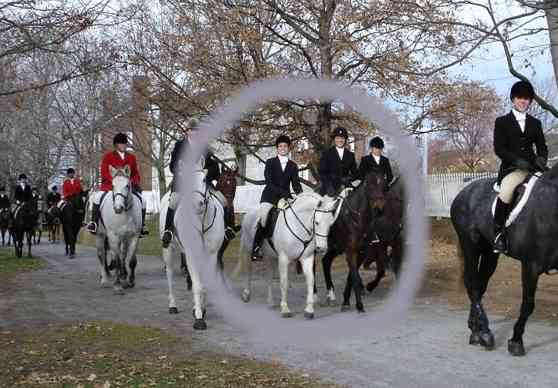 Fiona's eventing pics (3/09)
Becky, my trainer, thinks the last couple of pics from cross country are hilarious! She said the look on my face is that of a kid in a candy store with the huge beaming smile! I just couldn't help it! It looks like Fiona (Black Dog's Fiona by *Gun Smoke) is having a good time, too!
You can view the album at the following address:
http://www.photoreflect.com/pr3/viewalbum.aspx?a=552679 Carol Green




A great year for Dana and Bucky (3/09)
Congratulations to Dana Norquist of Germantown, MD and Foothills Waterman (Concord River Roaringwater Bay x Misty Meadows Miss Bonnie ). Dana says, "We really had a great year! Our year-end tally included: Fifth, USEA Master Amateur Rider; fourth, Novice Rider USEA Area II; Reserve Champion MCTA Novice Horse of the Year; and MCTA Champion Novice Senior Rider of the Year . I couldn't be happier with my Connemara partner. We are getting ready for this year."


Keogh does it again(2/09)
We (Tollie on Keogh by *Gun Smoke) went to the show on the 25th and again showed Intro. We got a 1st and 2nd place! I was so excited. He was just about perfect that day. He got off the trailer like he'd been showing all his life. I warmed him up in the indoor which he'd never done and he was great and then he was very professional in the show arena and went straight to work. I was so proud. Tollie Banker


Note from Pennsylvania (2/09)
Just to let you know, my *Gun Smoke filly (Kynynmont Kerrianna), who is now 3-1/2, is turning out to be fabulous. I had her started by my (gentle) cowboy, and have started riding her myself recently. She is lovely. Nice disposition, very solidly put together, and fabulous movement. I am really excited about her. Pam Liddell


Note from South Carolina (2/09)
Thanks for keeping up with me and Britta (by Balmullo's Beacon ). She is being leased by a rather talented kid that rides with me and really doing well going to combined tests and schooling horse trials. If I were wealthy Ii'd keep her as my exclusive hunt pony because she locked in and is the most instinctive hunter I've ever ridden. I guess like the fetch in a labrador its bred in there what fun... Piedmont Palmettto (by Balmullo's Beacon) is very special also. He's 16 hands and balanced. Has only bopped around the farm with other horses at this point but really likes that. Mary Hughs (Feb 09)


Note from West Virginia (2/09)
Sophy (Foothills Smokey Bay) continues to be such a light in my life, I just love her. I'll get some recent pics of her to you soon. Megan Buchanan thinks she is very typey and a wonderful *Gun Smoke daughter! ...I think she is probably going to be quiet enough for Maisie to show in a year or two, at least that's my plan. I need to measure her but she's definitely pony height, in fact I'd be surprised if she measures over 14H. Beury Stout

A good foundation for Billy(1/09)
Balmullo's Billy Elliott
(by *Gun Smoke) and Susan Hearn were first in Beginner Novice At the Full Moon Farm Starter Horse Trial in Finksburg, MD in November.

FFC 2009 ARCHIVED news & results
ACPS REGION 4 WEBSITE


FFC RESULTS from:
1999-2000
2001-2002
2003-2004
2005
2006
2007-2008
FFC 2008 ARCHIVED news & activities
FFC 2007 ARCHIVED news & activities
FFC 2006 ARCHIVED news & activities
FFC 2005 ARCHIVED news & activities
FFC 2004 ARCHIVED news & activities
FFC 2003 ARCHIVED news & activities
FFC 2002 ARCHIVED news & activities
FFC 2001 ARCHIVED news & activities

ARCHIVED Headlines